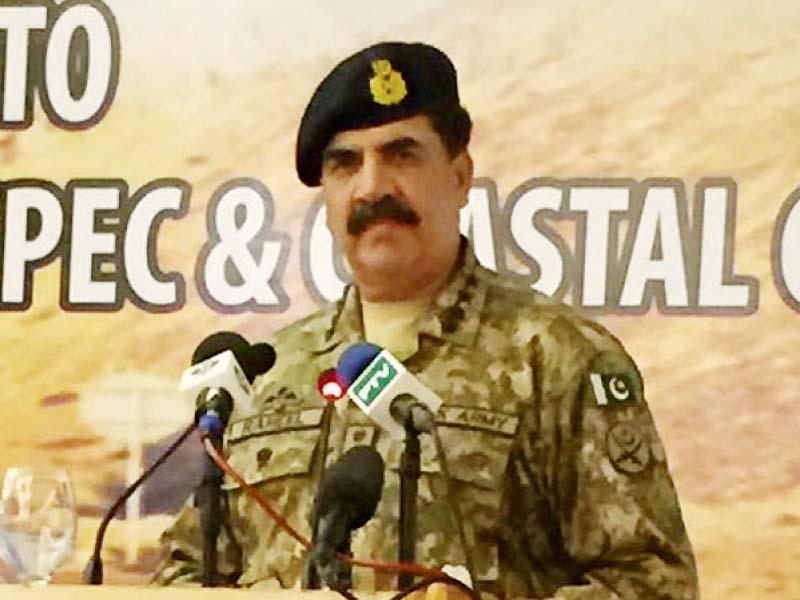 ---
QUETTA:



Army chief General Raheel Sharif said on Tuesday that the first cargo from China would reach Gwadar deep seaport this year.




"Insha Allah this year, we will move cargo from heartland China to Gwadar and beyond, fulfilling our dream," he said while addressing a seminar on prospects of peace and development in Balochistan.

Army chief reassures China of CPEC security

The seminar was organised by Turbat University, Devot Organisation and the commander Southern Command. Chief Minister Nawab Sanaullah Zehri, Commander Southern Command Lt Gen Aamir Riaz and a large number of people attended the seminar.

Gen Raheel said CPEC was a lifetime opportunity for Pakistan to improve the socio-economic equation of its underprivileged areas and populace. "I assure the people of Balochistan that it is they who will benefit the most from this project."

Since the onset of CPEC, Balochistan has seen unprecedented development of communication infrastructure as army engineers were mobilised for construction while army and Frontier Corps units were used for security of the projects, he said.

"Over the past two years, 675kms of roads have already been constructed, while by the end of this year, a total of 870kms of road infrastructure will be completed by the Frontier Works Organisation (FWO)."

He said it was his belief that CPEC was poised to bring a true economic transformation to the province, and Gwadar was central to the broader conception of CPEC. '[However,] the corridor itself ranges from western China to the plains and coasts of Pakistan and promises to bring prosperity to the remotest areas of Pakistan from Gilgit-Baltistan to Balochistan," he added.

Balochistan now a hotbed of regional, global proxy war: army chief




Gen Raheel said that while many world powers had appreciated the true potential of CPEC as a catalyst of economic transformation of the entire region, the project had also raised many eyebrows 'by those competing for influence in the region'.

In an apparent reference to the arrest of Indian spy Kulbhushan Yadav from Balochistan last month, the army chief said India had openly challenged this initiative and its spy agency, the Research and Analysis Wing (RAW), was blatantly involved in destabilising Pakistan.

"We all know that hostile intelligence agencies are averse to this grand project. Let me make it clear that we will not allow anyone to create impediments and turbulence in any part of Pakistan. Therefore, it is important for all to leave behind confrontation and focus on cooperation," he said.

The army chief vowed to ensure security of CPEC, adding that a 15,000-strong dedicated force was already in place under the ambit of a special security division.

Iran's help sought to stop RAW-backed terror

The ongoing military offensive, Zarb-e-Azb, is in its final stages, he said, adding that it was not just an operation but 'a wholesome concept' which ultimately aims at breaking the syndicate of terrorism, extremism and corruption.

"I urge the international community to not only acknowledge our successes and sacrifices, but also come forward in blocking external help to these terrorist organisations and their facilitators, abettors and financiers," he said, adding that "with relative stability achieved, environment is now set for launching of development prong."

The army chief thanked the brave people of Balochistan, provincial government officials, officers and men of the Southern Command and FWO in transforming the environment which has made possible quick development and paved the way for progress.


Published in The Express Tribune, April 13th, 2016.