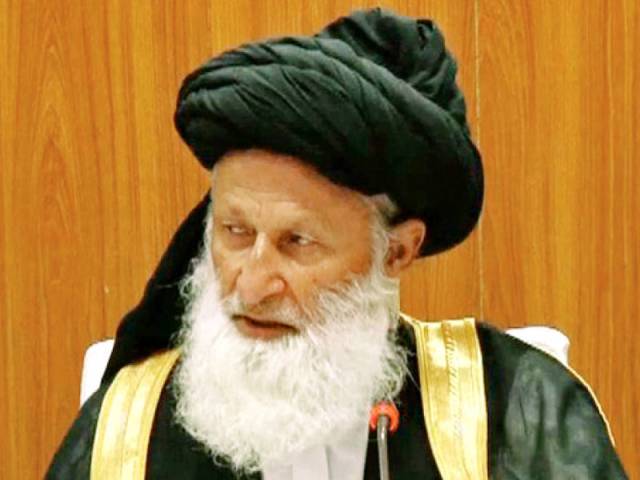 ---
ISLAMABAD: Council of Islamic Ideology (CII) chairman Maulana Muhammad Khan Sherani claimed to have an authority to issue fatwa (decree) and ijtihad (exert effort to make the correct judgement) over any issue.

"CII is not the judiciary but it has the authority to issue decree and exert over any issue," he said after concluding a two-day meeting of the council on Tuesday.

The council has authority to guide the government over the implementation of Islamic laws and if it fails then the council will do the legislation on its own, the chairman added.

On January 12, the upper house of parliament held a debate on the annual report of CII, with some saying the body had completed its task while others argued against its existence.

PPP Senator Farhatullah Babar had kicked off the debate in which MPs said the constitutional body responsible for providing legal advice on Islamic issues to the government and parliament could only recommend legislation but it was, ultimately, parliament's job to legislate.

Pakistan's child rights record under scrutiny

Maulana Sherani was of the opinion that the elected government has failed to legislate Islamic laws and majority of the legislation was done during dictatorships.

In its last meeting, the council rejected the Punjab Protection of Women against Violence Act (PPWVA) and a domestic violence bill tabled recently in the Khyber-Pakhtunkhwa, terming both of them against Islamic injunctions.

The provincial assembly unanimously passed the Punjab Protection of Women Against Violence Bill on February 24 after opposition members withdrew all nine amendments on the condition that the government ensure enforcement of the law.

Conformity with Sharia: Sherani says CII willing to review blasphemy law

All 10 amendments proposed by the law minister were passed unanimously by the house. As many as 44 women members were present at the session out of overall 76 women lawmakers.

Furthermore, the council also decided to send the details of the meeting to the government from the next time in order to facilitate the lawmakers regarding legislation.

The council finalised bill against physical torture of children which was prepared by CII in accordance with the Islamic injunctions during the meeting.
COMMENTS (4)
Comments are moderated and generally will be posted if they are on-topic and not abusive.
For more information, please see our Comments FAQ