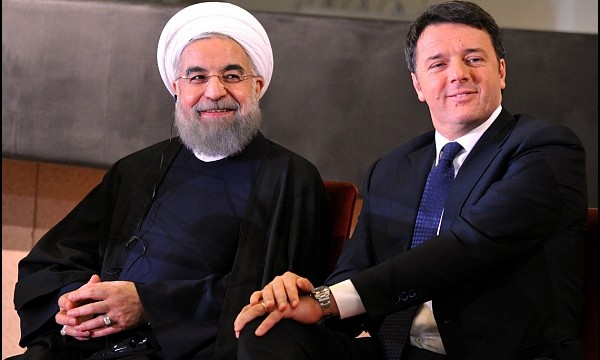 ---
TEHRAN: Italian Prime Minister Matteo Renzi started a two-day visit to Iran on Tuesday, the highest ranking European leader to do so since world powers completed a nuclear deal with Tehran.

Accompanied by a 250-person delegation, Renzi is seeking to re-establish Italy's economic clout in the Islamic republic which, before sanctions, made it Iran's number one European trade partner.

Rowhani's visit: Nawaz eyes trade talks with Iran president

The official IRNA news agency said Renzi would meet Iran's President Hassan Rouhani, who visited Rome in January just days after sanctions were lifted under Tehran's deal with six world powers.

Annual trade between Iran and Italy peaked at about $8 billion (seven billion euros) but a decade of nuclear-related sanctions saw it plummet to $1.8 billion currently.

When Rouhani visited Rome the two countries agreed initial terms on long-term contracts that could be valued as high as $19.4 billion, including deals in the oil, transport and shipping sectors.

Special report: The future of Pakistan-Iran relations

Iran has said it wants European help to modernise and expand its rail, road and air networks as well as seeking investment to boost its manufacturing base, notably in the automobile industry.

When Rouhani was in Rome he talked of reconstructing a relationship between "two superpowers of beauty and culture" that dates back to the days of the ancient Roman and Persian empires.
COMMENTS
Comments are moderated and generally will be posted if they are on-topic and not abusive.
For more information, please see our Comments FAQ