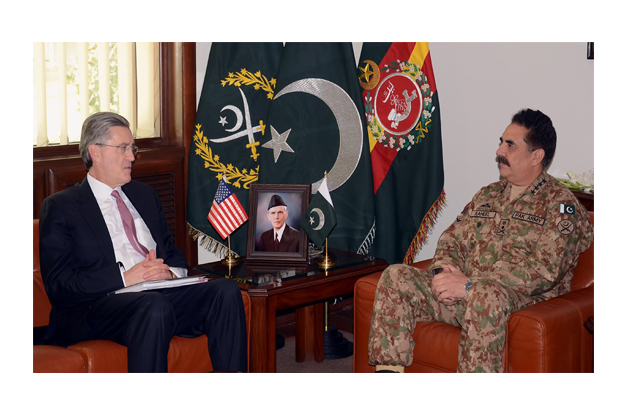 ---
ISLAMABAD: US President Barack Obama's pointman for Pakistan and Afghanistan Richard Olson met army chief General Raheel Sharif on Monday to discuss ongoing efforts for brokering direct talks between the Afghan Taliban and Kabul.

The meeting held at the GHQ in Rawalpindi came against the backdrop of a lingering deadlock in a quartet-backed peace initiative in Afghanistan.

Pakistan hopes to broker Taliban-Kabul talks this month

The Quadrilateral Coordination Group made up of Pakistan, Afghanistan, China and the United States had announced that the first face-to-face meeting between Taliban and Afghan government officials would be tentatively held in the first week of March in Islamabad. But the meeting didn't materialise as the Taliban refused to engage with Kabul.

The Taliban's refusal was attributed to schisms within the insurgent group triggered by the ascendency of Mullah Akhtar Mansoor, the successor of longtime Taliban chief Mullah Omar.  But recent reports suggest Mullah Mansoor has consolidated his authority after three of the most influential dissidents — Mullah Abdul Qayyum Zakir, Mullah Abdul Manan and Mullah Muhammad Yaqoob — have sworn allegiance to him.

Afghan peace process: Gen Raheel, Gen Nicholson review talks resumption

These developments may help pave the way for the much-awaited direct talks, according to official sources in Islamabad.

The GHQ meeting between Gen Raheel and Ambassador Olson discussed the prospects of direct talks, though the ISPR, the military's media wing, did not mention that. It only said in a brief statement that the overall regional security situation with particular reference to the situation in Afghanistan came under discussion. Ambassador Olson also appreciated Pakistan's counterterrorism efforts.

Published in The Express Tribune, April 12th, 2016.