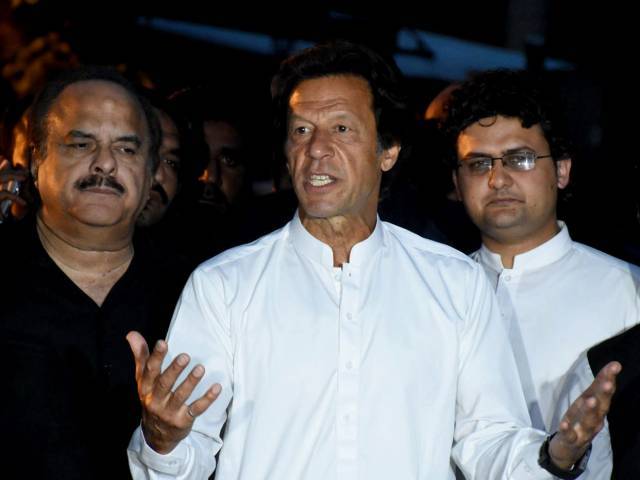 ---
ISLAMABAD:



Pakistan Tehreek-i-Insaf (PTI) announced on Monday to postpone its much touted intra-party elections (IPE) for indefinite period, saying it wanted to divert all its energies to yet another movement against the government in the wake of Panama Papers fiasco.




"We have decided to postpone the intra-party elections," PTI Chairman Imran Khan said after a brainstorming session with senior leadership of the party.

Will FBR confront the sons and daughter of a sitting prime minister?

The leadership had been invited to take a decision on launching a fresh movement against the Pakistan Muslim League-Nawaz (PML-N) government, after the leaked documents dubbed Panama Papers revealed offshore companies of Sharif family members along with numerous political leaders across the world.




"We have decided to launch a movement which will end with a march to Raiwind (the palatial residential compound of Sharif family)," Imran said.

The PTI chief said that membership campaign of the party, which was supposed to end by April 15 would continue. According to PTI election commission, the IPE was supposed to complete on June 5.

"The intra-party elections would be held after the Raiwind March," Imran said.

Responding to questions about bickering in the party, he said it reflected democracy within the party which is a rare phenomenon in the country.

A fresh Movement

PTI chairman announced that a fresh movement, more organised than the Azadi March of 2014, would be launched to purge the country of corruption.

"We will make all our efforts for the success of Raiwind March and invite civil society, lawyers, farmers and political parties … we would welcome whosoever wanted to join us," he added.

He said that the party has decided to constitute two committees to look after the political and financial matters of the march.

"We will announce our plan of action on April 24, the foundation day of PTI," Imran said, adding, if the government took steps, as demanded, there would be mere commemoration in connection with party's foundation day.

He also asked overseas Pakistanis to help hire a reputed audit firm with expertise in dealing with white collar crime. "We have got the lead by the revelations and now have to investigate further," he added.

Foundation Day

The PTI chairman refused to budge from his party's stand from having a ceremony at F-9 Park in Islamabad despite government's refusal.

Panama Papers: Huge tax leak exposes Putin aides, world leaders, stars

"We do not want confrontation, that is the reason we are not going to D-Chowk where we staged a sit-in for 126 days. We will celebrate the 20th foundation day at the F-9 Park," he insisted.

To a question about Interior Minister Chaudhry Nisar's offer for a meeting, Imran said he was ready to meet him. "I have no issues (in meeting Chaudhry Nisar) since we do not want confrontation," the PTI chief said.

Published in The Express Tribune, April 12th,  2016.