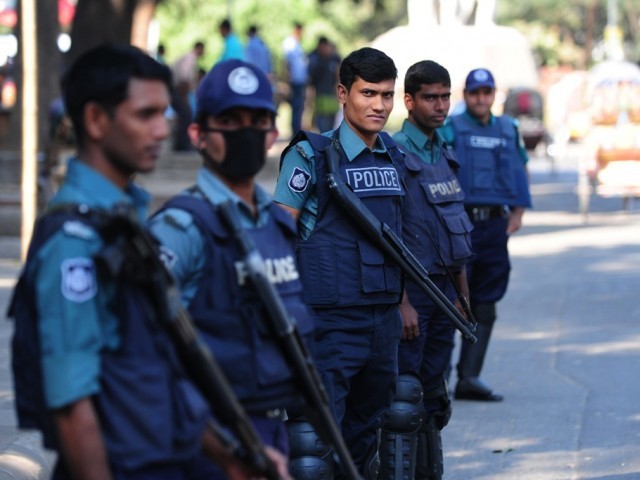 ---
DHAKA, BANGLADESH: There will be "unprecedented" security for this week's Bengali New Year festivities which hardline clerics have branded "un-Islamic", Bangladesh police announced Monday, as the country faces rising religious violence.

Police said thousands of officers would be deployed for the annual street parade to celebrate the new year on April 14 that traditionally sees hundreds of thousands of revellers swarm through the capital.

"We want people to celebrate the festival safely. Therefore, we have taken unprecedented steps to prevent any mishaps," Dhaka Metropolitan Police spokesperson Maruf Hossain Sorder told AFP.

Bangladesh court rejects petition to scrap Islam as state religion

Open-air evening concerts, normally held at Dhaka University and the main Ramna Park, have been banned as part of the stepped up security arrangements.

"We're erecting nine security watch towers at the festival venues in an effort to prevent any untoward incident," Sorder said.

Masks, commonly worn during the new year parades, are banned this year for security reasons, along with plastic vuvuzela horns to reduce noise pollution, the home minister said last week.

Crime control: Police claim robbery gang busted

Sorder said police have also launched a stepped up hunt for Islamic militants as Muslim-majority Bangladesh reels from deadly attacks on religious minorities and foreigners in recent months.

The government has blamed the attacks on home-grown Islamic militants, rejecting claims of responsibility from the Islamic State group as well as Al-Qaeda.

Several foreigners were murdered last year, while minority Sufi and Shiite Muslims, Christians and Hindus were also targeted in a series of deadly attacks.

Possession Of Drugs: Two men awarded life imprisonment

An activist, who posted against Islam on Facebook, was killed last week, the latest in a series of murders of secular bloggers and a publisher.

Police did not say if Bangladesh was facing any specific threat during the new year, but in 2001 a bomb blast in the Ramna park killed 10 people. Eight Islamist militants were later sentenced to death for the attack.

Ahead of this year's festival, a group of clerics has asked the government not to promote the festival, calling it "un-Islamic and Haram (forbidden)" according to mass-circulated Bengali daily Prothom Alo.

A long-running political crisis in the majority Sunni Muslim but officially secular country has radicalised opponents of the government and analysts say Islamist extremists pose a growing danger.
COMMENTS
Comments are moderated and generally will be posted if they are on-topic and not abusive.
For more information, please see our Comments FAQ