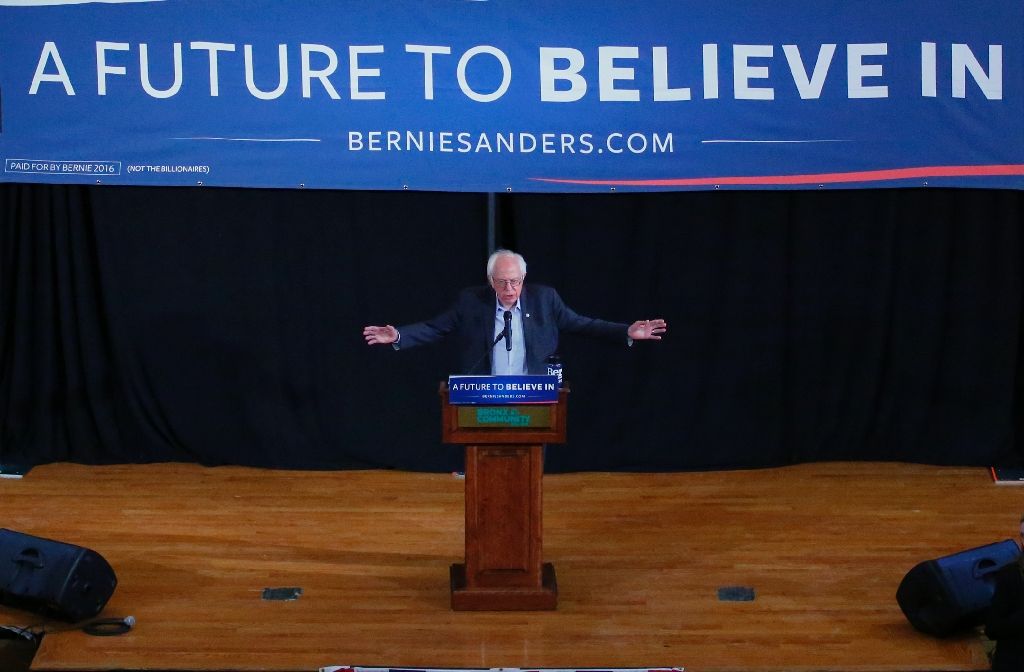 ---
NEW YORK:
White House hopeful Bernie Sanders extended his winning streak in his bid to pull off a shock and defeat Hillary Clinton, grabbing victory in the Wyoming Democratic caucuses Saturday, US media said.
The state -- which is overwhelmingly Republican -- only awards 14 delegates, meaning Sanders barely puts a dent in Clinton's more than 200-delegate lead.
But it gives the self-described democratic socialist another morale boost, ahead of the crucial New York primary on April 19.
Ted Cruz, Bernie Sanders win Wisconsin
The Vermont senator won 56 percent of the vote to 44 percent for Clinton in Wyoming, CNN projected, with most ballots counted.
Clinton though remains the clear frontrunner for the Democratic party presidential ticket for November's general election, but Sanders has the momentum and has enjoyed a string of successes at the polls in recent weeks.
Speaking to supporters in New York, Sanders broke into his speech to say to cheers: "All right. News bulletin. We just won Wyoming."
Speaking later, Sanders -- who locked horns with his rival Clinton over trade and the "Panama Papers" scandal this week -- said he continued to confound the doubters.
"I think it's fair to say that when we began this campaign we were considered to be a fringe candidate," said the 74-year-old Sanders, who has won eight of the last nine contests.
"I think that it is very fair to say that we were way, way behind during the first half of this contest, but we are having -- to say the least -- a very strong second half, and we are closing very fast."
However, it will still take a remarkable turnaround for Sanders to win the nomination over Clinton, a former secretary of state and first lady who goes into the New York primary as heavy favorite to extend her lead in the overall race.
Clinton, Sanders audition for role as anti-Trump candidate
New York, America's largest city and one of its most diverse, has demographics that play well to Clinton's support base among the wealthy and minorities.
Clinton leads Sanders 54-42 percent among likely Democratic voters in New York, according to Quinnipiac University polls.
Sanders, who hails from Brooklyn and has called for nothing short of "revolution," has attracted in particular the youth vote, but he is faring poorly in comparison with Clinton among African Americans in particular.