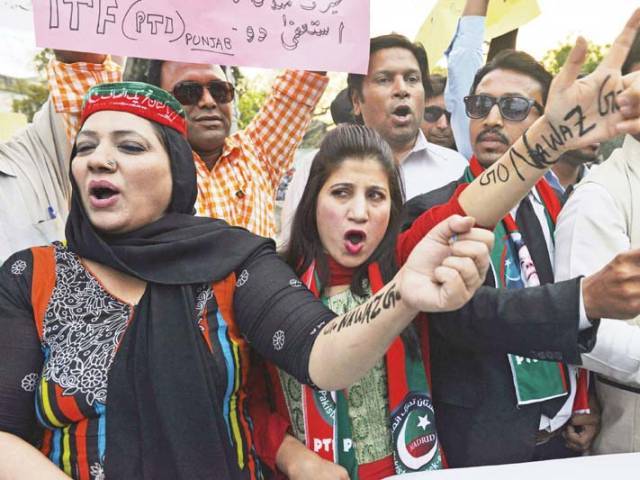 ---
And that's how we confuse issues in Pakistan.

The chronology is boringly predictable: scandal breaks, headlines are made, reactions pore in, hysteria builds up, defence is mounted, counter-accusations are flung back, side issues are raked up, fresh controversy develops, media changes gears, action is proposed to deflect the main issue, officials wheels move, events unroll as a consequence, drag on, media gets bored, fresh controversies and scandals break out, everyone moves on, scandal is all but forgotten.

Cut, paste into future scandal and see the pattern repeat itself again, and again.

Hence, as the Panama Leaks scandal unfolds, so does thick irony: the high and mighty get away with blue murder because the outrage that follows the proverbial blue has no institutional way of reaching a solid conclusion. Yes there's a lot of screaming, shouting and random hysteria, but ultimately all outrage fizzles down because this outrage has no way of being channelled into institutional action.

Nisar offers FIA services for probe into Sharif family's alleged offshore wealth

The script is being followed yet again: Panama Leaks are published, kids of the Prime Minister are named, media goes into a frenzy with screaming headlines and feverish debates, the PTI, the PPP and the other parties fire off scathing accusations and demand the resignation of the Prime Minister, the PM responds with an address to the nation and announces a commission, the commission in turn generates its own controversy while Imran Khan sparks off a fresh debate with his demand for an address to the nation on PTV, an army of ministers call heated press conferences and launch an attack on Shaukat Khanum hospital, Khan responds by saying he will march on the Raiwind residence of the Sharifs, and the hysteria begins to feed off its own momentum.

In this hullabaloo, no one stops to consider a few depressing conclusions:

One, the proposed commission will not be different in its outcome from previous commissions because of the inherent deficiencies built into such commissions.

Two, the opposition parties led by the PTI may generate turbulence, and may even hurt the government in a grievous way, but this would amount to lethal politics and nothing more. The actual issue of ensuring a system whereby scandals are investigated and the guilty prosecuted will remain a pipedream.




Three, the government will yet again draw all the wrong lessons: make enough noise, make enough irrelevant counter allegations, and take enough meaningless executive actions like the formation of a toothless commission and voila! The scandal has been handled.

Panama Papers leaks: Two ex-judges decline to head PM's inquiry commission

It is at times like these that the glaring discrepancies of our system return to haunt us. For example, there is not one — I repeat not one — investigating agency in the country that everyone can trust blindly. Organisations like the FIA have been abused so much by governments they have been reduced to mere handmaidens of those in power. The agency is professionally incompetent by international standards, and suffers from abysmal credibility. Do we realise the vacuum this state of affairs produces? Or take NAB. It may be flexing its muscles nowadays but would you trust it with your life? Would you believe it is capable of investigating the family of a sitting prime minister?

As a result, the one stop solution to everything is a judicial commission. But what is such a commission supposed to do? Consider for a moment: are the judges expert investigators? Can they go sniffing into money laundering, offshore accounts and front companies? Do they have the expertise to drill deep into paper trails? Can they be expected to decipher the intricacies of white-collar crimes? Since they do not, and cannot do any of this, their primary responsibility is to look at the evidence available to them and reach a conclusion. This is precisely why a weak prosecution leads to acquittal regardless of the guilt of the accused.

Who will bring such a proof in front of the commission? the PTI? It's not the job of any political party to be running around looking for evidence: that's what investigating agencies are for. They are supposed to dig deep into accusations and build a case for the judges. The MPs of the UK parliament do not go around playing Sherlock Holmes — that's what they have the Scotland Yard for. And Scotland Yard does not work on the whims of David Cameron or his cabinet.

Step down until inquiry is over, JI chief tells Nawaz

But somehow this reality escapes us here in this country. So fixated are we with judicial commissions that repeated failures of the commissions do not help us open our eyes to the real problem. So obsessed are we with looking for a neutral umpire that we ignore the fact that institutions of the state are by nature meant to play the role of the neutral umpire. If the FIA, NAB and the police were performing their duties as per their mandate and holding accountable everyone regardless of the person's standing and stature, there would be no need for commissions and media trials and useless politicking that ends up obfuscating the real issue.

But in the fog of this political war, real problems get relegated to oblivion. The Panama Leaks scandal is already losing focus in the battle of dharnas, press conferences and the wrangling over which judge will accept this unenviable responsibility of deciding the guilt or not of the Prime Minister's children. Will this judge have power to summon everyone he desires? Will any official come forward and present evidence against the Prime Minister's family? Will the commission have the resources available to outsource the investigation to top companies in the world? Will it have the mandate to summon the Prime Minister and his children to court for proper investigation?

The task would put Hercules to shame. Do not expect this commission to be different from previous ones. Do not expect the outcome of this scandal to be different from similar ones. Do not expect the government, the opposition, or anyone else for that matter to call for a complete reform of our investigating agencies. Do not expect to learn anything from this experience.

Just sit back and enjoy the soap opera on your screen. It will be worth its entertainment value.

Published in The Express Tribune, April 10th, 2016.

Like Opinion & Editorial on Facebook, follow @ETOpEd on Twitter to receive all updates on all our daily pieces.
COMMENTS (5)
Comments are moderated and generally will be posted if they are on-topic and not abusive.
For more information, please see our Comments FAQ