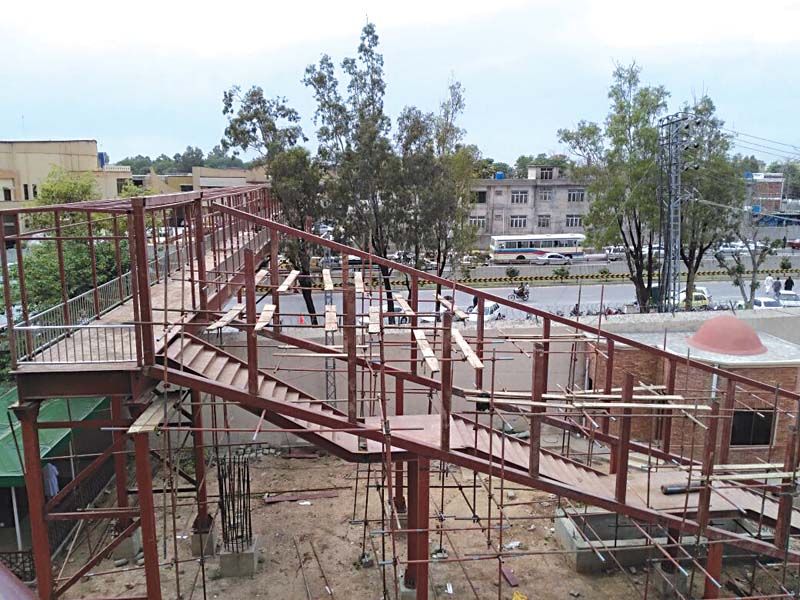 ---
RAWALPINDI: The Rawalpindi City District Government has finally started work on a much-needed pedestrian bridge to facilitate litigants and lawyers moving between the new judicial complex and the old districts courts.

The project had been pending for the last four years, leaving lawyers and litigants to face problems while crossing the busy road between the two areas.

The road is also used for VVIP movements as Army House and other military installations are located near the courts.

Lawyers, however, claimed that the design of the bridge will increase pedestrians' problems.

"The stairs of the bridge have been built in the parking area of the Potohar Town administration, far away from lawyers' offices and the old district courts," Advocate Naseer Tanoli told The Express Tribune.

He noted that the lawyers and litigants will have to go to the Potohar Town office to climb the bridge. He added that the bridge may be useful for healthy people, but it would not be helpful for elderly or physically-impaired people.

"The government should connect the pedestrian bridge with the first floor of the three-story judicial complex building," said Amir Khan, a cleric in civil courts.

"The bridge is necessary as it will help litigants cross the road safely. Litigants have to go to the judicial complex and lawyers' chambers situated in the district court area," said Muhammad Sajid, who has been pursuing a civil case involving a land dispute.

Rawalpindi District Bar Association President Advocate Shaukat Rauf Siddiqui said that the project would cost Rs 68.817 million. He said that the project also included installation of escalators to help senior lawyers and litigants.

Siddiqui said that initially, an underpass was proposed, but military authorities and Pakistan Railways did not approve of this. He noted that a rail track also passes through the new judicial complex and old district courts.

He said that on the request of the bar, the government has agreed to attach the bridge with the second floor of the judicial complex. He hoped that the project would be completed in four-to-six weeks.

Published in The Express Tribune, April 9th,  2016.
COMMENTS
Comments are moderated and generally will be posted if they are on-topic and not abusive.
For more information, please see our Comments FAQ