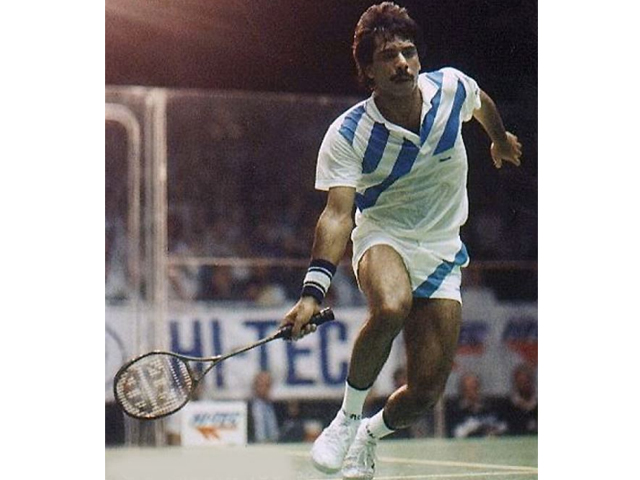 ---
KARACHI: Legendary squash champion Jahangir Khan on Friday praised the success of a series with Egypt in Karachi this week, saying he hopes it will persuade top-ranked players to help revive the once-popular sport in Pakistan.

Khan helped fuel a winning streak for Pakistan in squash that began in the early 1950s, taking 10 British Open titles as he followed in the footsteps of players like Hashim Khan.

His contemporary Jansher Khan took the last international title for the country when he won the 1996 World Open in Karachi for the eighth time.

Legends Versus Champions: Fitness the difference as Egypt beat hosts Pakistan

But since then Pakistan's squash fortunes have seen a serious slump and due to security fears, the last international event to be hosted in the country was the World Open in 2003.

Jahangir Khan said this week's exhibition series, with Egypt fielding players such as world number four Omar Mosaad and world number 10 six Tarek Momen, would fuel interest in his country once more.

"It's a good outing for our players as we know that they will not be able to match highly ranked Egyptians, but still the exposure will help them lift their game," Khan, who is also chairman of the Pakistan Squash Federation and an honorary president of the World Squash Federation, told AFP on Friday.

Legends v Champions series: Pakistan's Asim defeated by Farag in straight sets

"I am sure it will induce foreign players to come and help us revive the sport in the country," he said earlier of the two-day event that ended on Thursday.

Jahangir said the series -- which Egypt won by three matches to two, taking $40,000 in prize money -- will be followed by another tournament named after his father Roshan Khan, who won the British title in 1957.

Egypt has been ruling international squash with Mohamed El Shorbagy heading the international rankings.

Squash: Pakistan legend Jahangir expects British Open breakthrough

Also playing during the series were world number eight Karim Abdel Gawad, world number 11 Ali Farag and world number 20 Mazen Hesham.

On Pakistan's team were world number 35 Nasir Iqbal, along with Shahjahan Khan, Asim Khan, Farhan Mehboob and Tayyab Aslam.