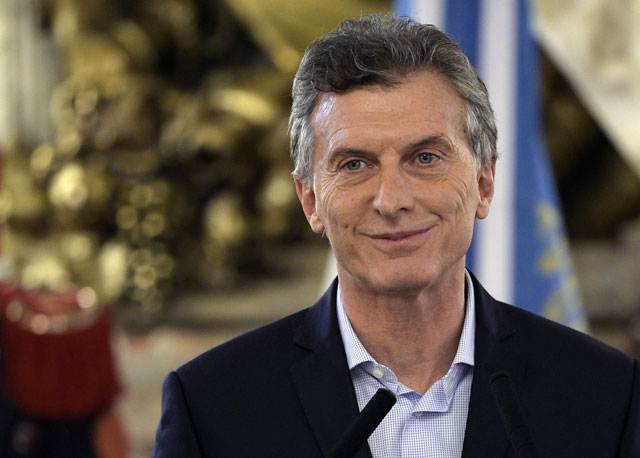 ---
LONDON: The storm unleashed by the so-called Panama Papers continued to swirl on Thursday as British Prime Minister David Cameron admitted benefiting from his father's offshore trust and prosecutors opened an investigation into Argentine President Mauricio Macri.

A host of world leaders, celebrities and sports stars have been caught up in the tempest created by the worldwide media investigation of the 11.5 million documents leaked from Panamanian law firm Mossack Fonseca.

Cameron, who has been on the defensive over the revelations about the secret financial dealings of the rich and powerful, admitted he held a £30,000 stake in an offshore fund set up by his late father.

He told television channel ITV he sold the stake in the Bahamas-based trust in 2010, four months before he became prime minister.

"We owned 5,000 units in Blairmore Investment Trust, which we sold in January 2010. That was worth something like £30,000," Cameron said. The sum is roughly 37,000 euros or $42,000.

"I sold them all in 2010 because if I was going to become prime minister, I didn't want anyone to say you have other agendas, vested interests." He insisted he had paid income tax on the dividends from the sale of the units, which he bought in 1997.

The Panama Papers have felled Iceland's prime minister and forced other political heavyweights onto the defensive, including Russian President Vladimir Putin, China's Xi Jinping and now Macri, the leading symbol of a budding right-wing resurgence in Latin America.

Macri insisted he had made no "malicious omission" from his mandatory asset declarations as a public official, after federal prosecutor Federico Delgado asked a judge to request information from the national tax authority and anti-corruption office to determine whether the president may have committed any financial crimes.

"I am calm. I have obeyed the law. I have nothing to hide," Macri said in a nationally televised address, vowing to present proof before the court Friday.

The conservative president is listed on the board of directors of two offshore firms -- one registered in the Bahamas and the other in Panama. He did not list either in his financial declarations when he became Buenos Aires mayor in 2007 or president last December.

Macri, who vowed to fight corruption during his presidential campaign, says the firms were legitimate operations set up by his father, a wealthy business magnate.

Putin for his part ridiculed the international media probe behind the revelations, deriding it as US-orchestrated and boasting that a year-long investigation had failed to find any mention of his name.

"They combed through these offshore accounts. Your humble servant is not there. What is there to talk about?" he said, referring to himself, at a televised forum held in Saint Petersburg.

He denied corruption accusations and defended his friend, cellist Sergei Roldugin, whom the International Consortium of Investigative Journalists (ICIJ) found had "secretly shuffled as much as $2 billion through banks and shadow companies."

The ICIJ coordinated the investigation with more than 100 media groups around the world after the documents were obtained from an anonymous source by German daily Sueddeutsche Zeitung.

Putin lambasted the probe as a Washington conspiracy, pointing to a Twitter post by whistleblowing group WikiLeaks that said "US govt funded #PanamaPapers attack story on Putin via USAID."

Although not illegal in themselves, offshore financial transactions may be used to hide assets from tax authorities, launder the proceeds of criminal activities or conceal misappropriated or politically inconvenient wealth.

The leaks have left Panama fighting to salvage its reputation. Vice President and Foreign Minister Isabel De Saint Malo told AFP the country would open a "technical-level dialogue" with the Organisation for Economic Cooperation and Development on sharing tax information.

The Paris-based, 34-nation OECD, which helps coordinate the global fight against tax evasion, has sharply criticized lawlessness in the Panamanian finance sector, which accounts for seven per cent of the Central American country's economy.

Panama is scrambling to avert being once again designated as a tax haven that facilitates money laundering.

Fallout from the leaks also reached Colombia, where the government's two top negotiators in peace talks with leftist guerrillas, Humberto de la Calle and Frank Pearl, were named as holding offshore companies.

Both denied wrongdoing. The leaks have put the embattled world of football back in the spotlight, too.

On Wednesday, Swiss police searched European football body UEFA's Geneva offices as part of a probe into a Champions League television rights deal signed by Gianni Infantino before he became president of the world football governing association FIFA.

Uruguayan Juan Pedro Damiani was meanwhile forced to resign as a FIFA ethics judge after he was also named in the Panama Papers, which come from around 214,000 offshore entities and cover almost 40 years.

In Iceland, former agriculture minister Sigurdur Ingi Johannsson was sworn in as premier after his predecessor, Sigmundur David Gunnlaugsson, was forced out over allegations he hid millions of dollars of investments in the country's banks.

Many of the world's top banks have also been named in the leaks, including HSBC, UBS, Credit Suisse and Societe Generale, as creating thousands of offshore companies.

European banking shares took a pounding Thursday after British and French regulators ordered lenders to come clean on any links to the scandal.