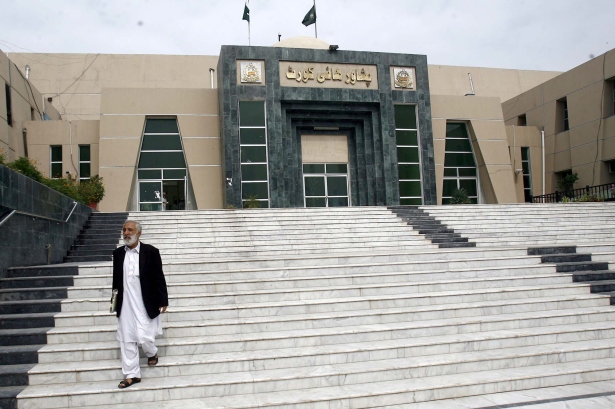 ---
PESHAWAR: The Peshawar High Court has issued orders to open commercial plazas that were sealed by the excise and taxation department over non-payment of taxes. A reply has been sought from the department.

A division bench, comprising Justice Waqar Ahmad Seth and Justice Irshad Qaiser, suspended the notices issued to traders on a petition filed by Haji Muhammad Umer, Alif Khan and other traders.




The petitioner's counsel, Nasruminallah, informed the bench the traders were issued notices by the department over the failure to pay taxes. After they refused to pay the levies, the department sealed several plazas – including Sona Tower, Gold Tower and Zareen Plaza – on March 22.

Nasruminallah informed the court the property was owned by Evacuee Trust Property Board and falls under the federal government. He added the provincial government cannot charge taxes on property owned by the federal government as per law.

The counsel said these plazas were given on rent to the petitioners for commercial activities and the latter spent thousands of rupees on its maintenance and decoration.

He requested the court to declare the notices null and void and open the buildings. After hearing the arguments, the bench ordered to open the property and sent the petition to excise and taxation secretary so that it could be decided on merit.




The bench decided the buildings would remain open till the matter was decided.

Streamlining

Another division bench, comprising Justice Nisar Hussain and Justice Syed Afsar Shah, issued notices to Khyber-Pakhtunkhwa Services Tribunal chairman and advocate general. It has asked them to submit replies on a petition that sought to increase the number of members on the tribunal.

The bench was hearing a petition filed by Advocate Mukhtiar Manerai.

The petitioner informed the bench there were four members, including the chairman, who were working in the tribunal. He added tribunal also has to hear cases in other districts apart from Peshawar.

He said 5,000 appeals have been pending before the services tribunal. He said the number of appeal was much too limited to be decided by the four-member committee keeping in view the pending appeals and inflow of fresh cases.

He requested the bench to order an increase in the number of members in the tribunal to ensure relief is provided to applicants. After hearing the arguments, the bench issued notices to the provincial government, law department and the chairman of the tribunal.

Published in The Express Tribune, April 8th,  2016.

 
COMMENTS
Comments are moderated and generally will be posted if they are on-topic and not abusive.
For more information, please see our Comments FAQ