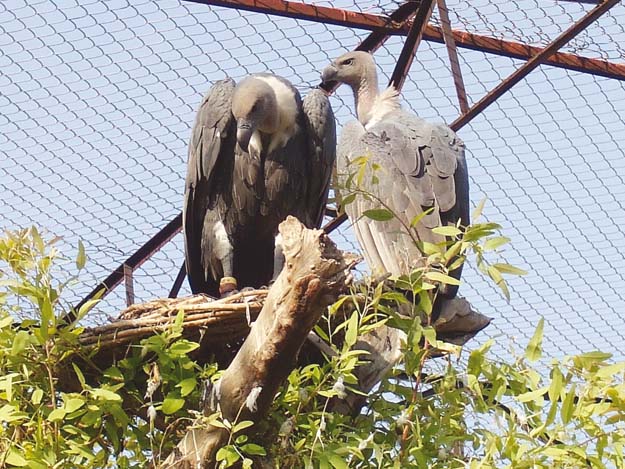 ---
KARACHI/LAHORE:



Two healthy chicks of oriental white-backed vultures, declared critically endangered, that were hatched at the WWF-Pakistan's Changa Manga Vulture Conservation Centre in February this year, are now over six weeks old and in good health. This is the first successful breeding of the species in captivity in Pakistan.




The population of the oriental white-backed vulture has been on a decline and more than 90 per cent of its historic geographic range in Pakistan, India and Nepal has been lost since the early 1990s. The drastic fall is attributed to the use of diclofenac sodium, a non-steroidal anti-inflammatory drug (NSAID), in livestock. Other harmful NSAIDs include ketoprofen, aceclofenac, and flunixin.

The WWF-Pakistan launched a captive breeding programme in Changa Manga Forest Reserve in 2005, to enhance understanding of the vulture lifecycle. Land for the centre was provided by the Punjab Wildlife and Parks Department with a seed grant from the Environment Agency of Abu Dhabi.

The Hawk Conservancy Trust (HCT) supported the construction of aviaries and has regularly extended financial and technical support to vulture conservation work.

The facility currently houses 15 white-backed vultures, of which two pairs bred successfully this year, while two other pairs have shown encouraging signs of breeding behaviour. These chicks are being monitored and cared for by WWF-Pakistan trained staff at the Centre.

WWF-Pakistan director general Hammad Naqi Khan congratulated those involved in the breeding programme. "The survival of these chicks is a significant achievement in bringing this critically endangered species back from the verge of extinction." He said it would contribute in achieving a viable population, once released into the wild. This indicates the high standards of husbandry and care protocols in place for these birds at the Conservation Centre, he said.

Lahore Safari Zoo Park

Steering Committee on Wildlife Chairman Muhammad Afzal Khokhar has directed the officers of the Communication and Works Department and contractors to hasten work on projects at the Lahore Safari Zoo Park and to ensure completion of all projects by June 20.

Punjab Wildlife and Parks Director General Khalid Ayaz Khan, Lahore Safari Zoo Park Deputy Director Syed Zafar ul Hassan, Wildlife Deputy Director Mudassar, Lahore Safari Zoo Park Veterinary Officer Muhammad Azhar, an XEN and an SDO of the C&W Department were present.

Khokar gave the officials a deadline for April 20 to finish constructions on projects that were 80 per cent complete. The rest should be complete by June 20. He said food courts should be completed by May 15. A play land for children will be completed by October 1.

Wildlife DG Khalid Ayaz Khan was briefed by Veterinary Officer Muhammad Azhar about the death of some birds from ND virus. He stressed the need to adopt precautionary measures in this regard.  He said work on installing security cameras had begun and four security cameras had been installed at main gate of the Lahore Safari Zoo Park and monitoring has begun. He said that foolproof security of visitors would be ensured at all costs and every possible step would be taken in this regard.

Published in The Express Tribune, April 8th,  2016.