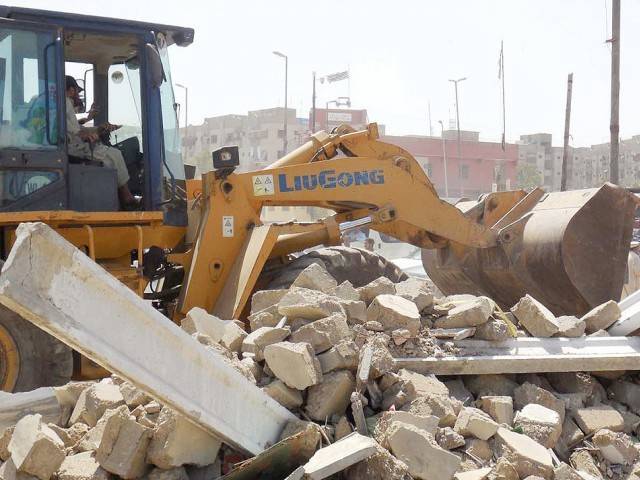 ---
KARACHI: Karachi police have been given 25 days to get rid of the encroachers who have illegally occupied parts of Aligarh Muslim University Old Boys' Cooperative Housing Society.

On Wednesday, the Sindh High Court (SHC) gave Karachi AIG Mushtaq Mahar and Malir SSP Rao Anwar 25 days to clear the land from encroachments. Headed by SHC chief justice Sajjad Ali Shah, the division bench also directed both the police officers to submit compliance report by the next hearing.

The bench was hearing an appeal filed by the owners of residential and commercial plots in the housing society. Since 2010, the appellants have been litigating in order to get their plots retrieved from the clutches of the land grabbers.




The appellants, including Raza Muhammad, said that the Aligarh Muslim University Old Boys' Cooperative Housing Society is one of the oldest housing projects in the city that spreads over six blocks measuring 233 acres. The society has 1,530 members.

The society was registered in 1968 and the encroachment began in 2005, said the petitioners. It took the authorities two years to get two blocks - 9A1 and 9A2 - vacated from the clutches of the encroachers on court's orders but the remaining four - 5A, 5B, 7A and 7B - have yet to be vacated, said their petition.

The appellants recalled that the court had ordered the provincial and local authorities and the law enforcers, including the Rangers, to get the remaining blocks vacated on February 13, 2014. However, the authorities failed to comply with these directives. Then on December 23, 2014, the court granted five more weeks as a last chance to retrieve the land.

Later, the appellants moved a contempt application against the Karachi Metropolitan Corporation's anti-encroachment cell director, the land utilisation department and other authorities for their alleged failure to implement the court's order. On March 11, the bench directed the alleged contemnors to comply with its previous order otherwise contempt proceedings shall be initiated against them.

During Wednesday's proceedings, the officials told the court that a meeting of Malir district deputy commissioner, the Mukhtiarkar and the police authorities was convened to resolve the matter. It was decided to carry out an operation against encroachments on April 5 but the plan was not executed due to lack of back-up support from the Rangers, they added.

This visibly irked the bench members, who came down hard on the police authorities. Justice Shah observed that if the police were showing an inability to carry out minor tasks then why not hand over the whole city to the Rangers.

The court ordered the AIG Mahar and SSP Anwar to get the encroachments removed within 25 days. The officers will file a progress report by May 4, when the matter will be taken up again.

Published in The Express Tribune, April 7th,  2016.
COMMENTS (1)
Comments are moderated and generally will be posted if they are on-topic and not abusive.
For more information, please see our Comments FAQ