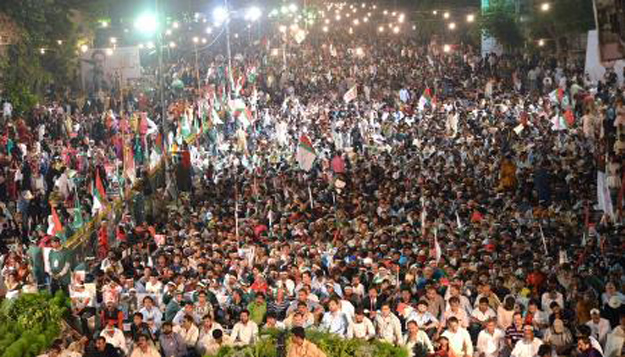 ---
KARACHI:



With campaigning ending officially at midnight on Tuesday, a low turnout is expected in today's by-elections. Nevertheless, the Muttahida Qaumi Movement (MQM) seems to be in a comfortable position to clinch both the provincial assembly and National Assembly seats.




Political parties are battling for NA-245 and PS-115 after MQM lawmakers Rehan Hashmi and Arshad Abdullah Vohra resigned from their respective seats following their victory in last year's local government (LG) elections.




PTI candidate withdraws from NA-245 by-polls, joins MQM

Voter turnout is expected to be low as the by-election falls on a weekday, even though the provincial government has announced a public holiday in districts East and Central, which house the two constituencies. Electoral campaigning in both the constituencies, considered MQM strongholds, has been lukewarm, with a general lack of enthusiasm from all political parties.

Contesting parties only picked up the pace a few days ago by holding corner meetings and taking out rallies.

Recent incidents of pre-poll violence - an MQM election office was attacked and burnt in Lines Area - have added a bit of frenzy and raised security concerns in an otherwise lacklustre campaign from all sides.

NA-245

The National Assembly constituency falls in District Central, and comprises all blocks of North Nazimabad, Buffer Zone, some parts of North Karachi and Nazimabad. Its ethnic composition is made up of a majority of Urdu-speaking people, and the area is home to the 'educated middle class'.

NA-245 is considered to be a stronghold of the MQM. According to a member of the party's Rabita Committee, Aminul Haque, the party has been bagging the seat since 1988. In the last general elections, Hashmi had secured the seat with 115,776 votes, defeating the runner-up PTI candidate with a margin of 60,839 votes.

MQM's Farhat Muhammad Khan won the seat with a heavy mandate in the 2008 elections, defeating the PPP candidate. In the 2002 elections, Jamaat-e-Islami's (JI) former chief Munawar Hasan lost to MQM's Kanwer Khalid Younus. According to the Election Commission of Pakistan (ECP), 227 polling stations and 796 polling booths have been established for the by-polls, with 33 declared 'highly sensitive' and 124 'sensitive'. The number of registered voters is 409,655, out of which 221, 242 are men and 188, 413 women. A total of 16 candidates from various political parties are contesting the polls.

Pre-poll assault: MQM accuses Haqiqi of attacking party office

PS-115

This provincial assembly constituency witnessed bouts of violence this week, with the MQM and its rival Muhajir Qaumi Movement-Haqiqi (MQM-H) accusing each another of attacking offices and thrashing workers. Around 70% of Lines Area falls in the constituency, along with PECHS block two and six, Jut Lines, and Jacob Lines. An overwhelming majority of locals here belong to the Urdu-speaking community.

The ECP states that there are 162, 614 registered voters in the constituency, out of which 90, 413 are male and 72, 201 are female. For the by-elections, some 83 polling stations and 332 polling booths have been established, of which 66 have been declared 'highly sensitive' and 14 'sensitive'.




The seat was last held by MQM's Vohra who is now the party's nominee for Karachi's deputy mayor. In 2013, Vohra won the seat after bagging 55,804 votes. The runner-up, Pakistan Tehreek-e-Insaf's (PTI) Hamza Nafees, has now joined the MQM and is working for its cyber communication department.

Raza Haroon bagged the seat from the MQM's platform in the 2008 general elections, beating a PPP candidate. Haroon has now joined the Pak Sarzameen Party under the leadership of Mustafa Kamal.

The contenders

The MQM has fielded relative novices on both seats, with both candidates never having run for provincial or National assemblies seats. However, they have won local bodies' polls before. The party's candidate for NA-245 is Kamal Malick, the nazim of Gulberg town in the 2005 city district government setup. Six months ago, he was included in the party's rabita committee as well. The party's PS-115 candidate is a newcomer, Faisal Rafiq, elected as a vice-chairperson in the local government elections in December last year. He joined the party in 2012.

Potential for violence: Rangers DG directed to avert disturbances

The PTI is also fielding relatively new candidates for the two constituencies, Amjad Jah for PS-115 and Amjadullah Khan for NA-245. Jah, who joined the party in 2010, has demanded that a level-playing field be provided to all contestants. "Everyone should be given a fair chance.  I would request the people to come out and vote," he told The Express Tribune, hoping a higher turnout will propel him to victory.

MQM-H has fielded Jameel Qadri on the provincial assembly seat. The party's spokesperson, Khalid Hameed, said this time around they had public support. "Because we are getting supporters and people are turning to us, the MQM has reacted by spreading fear and panic by resorting to violence." Hameed said the MQM has started pre-poll rigging, alleging that it had even changed an SHO of one of the police stations falling in the constituency.

PPP is also contesting the elections and has nominated Shahid Hussain as its candidate for NA-245 and Saeed Chawla for PS-115.

However, the JI is not contesting the by-polls. Its spokesperson, Zahid Askari, rejected the impression that the party was not contesting because it was losing its vote bank, and said by-elections are usually won by those who had bagged the seat previously.

"We have the vote bank, but there's disappointment among people because no changes have been made to the voters list despite several complaints. We had demanded unbiased polling staff and Rangers within and outside the premises [but this did not happen]," he claimed.

Published in The Express Tribune, April 7th,  2016.
COMMENTS (1)
Comments are moderated and generally will be posted if they are on-topic and not abusive.
For more information, please see our Comments FAQ