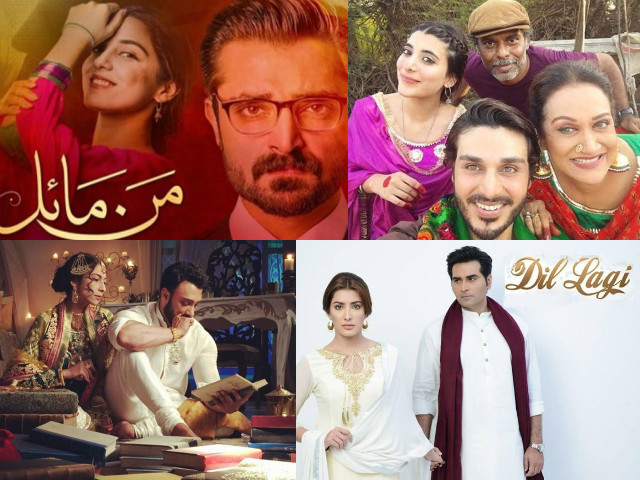 ---
Looking for a good drama to watch? Tired of flicking through channels and trying to decipher which serial might be worth following? Fret not! We have compiled the ultimate list of Pakistani dramas that you shouldn't miss. Bear in mind though, while most of these shows are already on air, there are some which are yet to premiere.

Hopefully our TV guide can save you the trouble of having to sit through weeks of bad acting and ridiculous melodrama (unless you want it!). For all those who have been burned by slick promos and well-made teasers, here is a guide to some of the best dramas on right now and the best bets for the upcoming crop.

Dramas you should be watching right now:

1. Dillagi (Every Saturday on ARY Digital)




If you are tired of the usual 'mazloom aurat' or 'bholi larki' suffering the slings and arrows of cruel fate, Anmol is here to rescue you. Played by Mehwish Hayat, this dabangg character is not just a pretty face; she is strong, intelligent and very resourceful. When businessman-cum-goon Mohid (played by Humayun Saeed), falls in love with her she refuses to accept his proposal and meets every challenge he sets for her with one of her own.

Directed in a suitably 'filmi' style by Nadeem Baig of Pyarey Afzal and Jawani Phir Nahi Aani fame, this fast-paced story is a battle of wits and egos, where the main characters are unwilling to back down an inch. Writer Faiza Iftikhar (who has earlier delivered Roag and AunnZara) delivers a complete package to the audience; humour, social commentary and pure entertainment all rolled into one sharply plotted drama.

2. Mann Mayal (Every Friday on Hum TV)




Despite complaints about the lack of screen chemistry between the lead couple and some contradictions in the story line, this drama remains at the top of the ratings. Mann Mayal is tangible proof that whether he is awake or asleep in a role, the public loves watching Hamza Ali Abbasi on screen. Maya Ali has surprised critics with a strong performance as Mannu -- the naive girl next door. Lush sets, bright lights and soaring background music makes it an easily digestible piece of entertainment.

The serial is directed by Haseeb Hassan -- who delivered a big hit last year in the form of Dayar e Dil -- and written by Samira Fazal -- the writer of many popular serials like Shukk, Alvida and Dastan. The cast also includes Gohar Rasheed, who has given a solid performance as Mannu's villainous husband. While the serial is, may be, losing its edge for some, the approaching entry of a strong actress like Aisha Khan promises to bring the zing back into the story.

Will fate ever allow Salahuddin and Mannu to unite? Perhaps Shakespeare has the answer: "The fault, dear Brutus, is not in our stars, but in ourselves."

3. Udaari (Every Sunday on Hum TV)




After Rehaii, this is Farhat Ishtiaq's  -- who has previously written Humsafar and Dayar e dil -- second serial in collaboration with the NGO, The Kashaf foundation. Rehaii was a brilliant drama about the evils of child marriage, and Udaari also revolves around very serious issues such as child abuse and sexual assault. Pakistani dramas have never shied away from broaching tough subjects but such subjects must be handled with respect, knowledge and aesthetic sense. Director Ehtashamuddin handled a similar story in Sadqay Tumharey and managed to avoid any overt sensationalism without losing impact.

Udaari stars Ahsan Khan in a negative role opposite Sammiya Mumtaz, with Bushra Ansari, Farhan Saeed and Urwa in the leads. Farhan's presence means we might get to hear some great songs. Since Farhat Ishtiaq is known as the queen of romance, hopefully this drama too will be as powerful and compassionate as her previous work.

Mein Sitara: Serial on Lollywood's golden era a dark horse among Pakistani dramas

4. Abro (Every Sunday on Hum TV)




This drama is everyone's guilty pleasure. Starring model Eshal Fayaz and Noor Hassan, the lead characters suffer a complete reversal in fortune and are forced into a life of misery and poverty because they disobeyed and disgraced their parents by running away to get married. Putting some of the more ridiculous plot points of this morality tale aside, the tight direction and strong performances will make it worth your while.

The story, till now, has been an unending saga of one crime which includes ten episodes of unlikely punishments. But the chemistry between the lead pair makes this drama interesting to watch every week.

There are some obvious loopholes too. For example, the couple eats biscuits because they have no money for food, but Noor Hassan never runs out of volatizing hair gel and Eshal Fayaz's nails are always manicured. However, Ahmed Zeb and Farah Shah even out these weaknesses with their superlative performances.

5. Bheegi Palkein (Every Friday on Aplus)




This is a simple, well-made drama which proves that a big budget isn't necessary when everyone is at the top of their game. Mehar Bano loses her husband to the manipulations of her psychotic sister in law Fari. When Fari's ex-fiancé Hassan turns up and begins to fall in love with the beautiful young widow, Fari must find a way to get rid of Mehar Bano.

With fabulous performances from both Ushna Shah and Faryal Mahmood, this TV serial is actually a well-crafted thriller.

6. Mein Sitara (Every Thursday on TV ONE)




Originally titled NigharKhana (meaning studio), this drama melds many famous scandals surrounding some of the most iconic Bollywood and Lollywood figures. The two-season serial takes us into the world behind the glamour of the silver screen and gives much needed perspective to the revived and burgeoning Pakistani cinema of today.

It stars Mikaal Zulfikar, Ayesha Gul, Saba Qamar, Nauman Ejaz, Hassan Ahmed, Azfer Rehman and Meera. Saba Qamar plays Soraya -- a young maid who works tirelessly to become a big star. A strong and fresh script by Faiza Iftikhar combined with Seema Tahir Ali's thoughtful direction makes this a must watch for those interested in quality viewing.

7. Tum Kon Piya (Every Wednesday on Urdu 1)




Tum Kon Piya is an adaptation of a novel by Maha Malik. After her phenomenal performance as the haughty Farah in Pyarey Afzal, Aiza Khan is back to playing the perfect girl who looks after her sisters and widowed father. Imran Abbas plays the loves struck boss' son and like so many other dramas these days, it's the interaction between the lead couple which is the highlight. Imran is in great form and with Yasir Nawaz's expert direction, this one is surely a winner.

8. Abb Kar Meri Rafugiri (Every Thursday on ARY Digital)




This serial gets to the heart of some deep set cultural issues such as honour killings. Danyal Raheel's character falls in love with a girl called Taban, played by Ushna Shah, who comes from an extremely conservative and closed-minded family who only marry within their caste. Taban, however, is unaware of this young man's existence let alone his obsession with her. But her family punishes her by forcing her to marry her sadistic cousin, played with skilled menace by Ali Safina. In desperation Taban runs away and finally meets the cause of all her misery. She can no longer return home and fears for her life.

The script by Saira Raza is well-written and director Adnan Wai Qureshi too does a splendid job. Not to forget a stellar performance by Usman Peerzada as Taban's father.

Karachi-born Gabe Grey calls for empowerment of women in Pakistani dramas

Dramas to watch out for:

1. Mor Mahal (Geo -- Will premiere on 24 April)




After Humsafar and Sheher e Zaat, you'd expect Sarmad Khoosat to deliver something exceptional. This is a tale of two Sarmads , the second one being acclaimed author, poet and director Sarmad Sehbai who wrote this script set in the Mughal era some years back. The producers have done their best to keep this historical saga authentic by shooting scenes around the famed Lahore fort.

The cast includes household names like Hina Bayat, Sanya Saeed, Meesha Shafi and fresh faces including Uzair Jaswal, Umer Naru Shah Fahad, Mehar Bano and many more. Though teasers can often mislead, the fabulously subtle insights given by the trailers for Mor Mahal are quite enticing.

The only downside to what looks like a blockbuster serial might be that such stories lend themselves too easily to overacting and melodrama. Hopefully Sarmad Khoosat's magic touch has kept a tight rein on such tendencies.

2. Intezar (Aplus -- Date to be announced)




This drama is written by Asma Sayani -- author of Piya Mann Bhay  and is directed by Kashif Nisar, who has previously delivered Ullu Barai Farukht Nahi and Sangat. The star cast includes Mikaal Zulfikaar, Sana Javed, Azfer Rehman and Annum Fayaz. The plot is about the life of a woman who faces difficulties because of the choices she has made in life and how fate can be cruel sometimes.

3. Aap Kay Leeye ( ARY Digital to be announced)




This drama showcases the fresh pairing of Faysal Qureshi and Arij Fatima. The plot revolves around a fun-loving girl who isn't the domestic goddess usually portrayed in our TV serials. Her marriage to a more introverted, serious man becomes a challenge for her. How do such different personalities change and accommodate each other? Will their marriage even last? You will have to wait and find out when you watch this drama written by the prolific Faiza Iftikhar.

4. Besharam (ARY Digital To be announced)




The story is about two people from two different worlds and how fate brings them together. It stars Saba Qamar in the glamorous avatar of a fashion model with Zahid Ahmed as the male lead.

Zahid's character belongs to a family which disapproves of modelling as a career. Saba's character, on the other hand, has already made a name in the fashion world. This serial might be worth watching if it avoids simplistic, black and white characterisations and allows the audience to make their own judgments.

The promos draws some interesting parallels to the Bollywood movie Fashion. Besharam is directed by Farooq Rind who has Gul e Rana and Jugnoo to his credit and written by Sarwat Nazir who wrote dramas like Daag and Shikwa.

Zee Zindagi TV boss admits success of Pakistani dramas led company to initiate film project

On the long awaited list:

1. Bin Roye Ansu




We are all still waiting for the TV version of Bin Roye. Wonder when we will get to see Mahira on the small screen again!

2. Main Manto




Another highly anticipated project is the mega serial on the life of Sadat Hassan Manto. If the film was any indication, the Sarmad Khoosat directed TV serial will surely be a blockbuster hit!

3. Sanam




Although still in the works, this drama featuring the Dayar e dil couple -- Maya ali and Osman Khalid Butt -- is eagerly awaited by fans. The serial is directed by Haseeb Hassan and stars Hareem Farooq.

The author is a freelance writer, a serious fan of dramas and films but most of all an observer. She tweets @Tomtomatoe.

COMMENTS (12)
Comments are moderated and generally will be posted if they are on-topic and not abusive.
For more information, please see our Comments FAQ