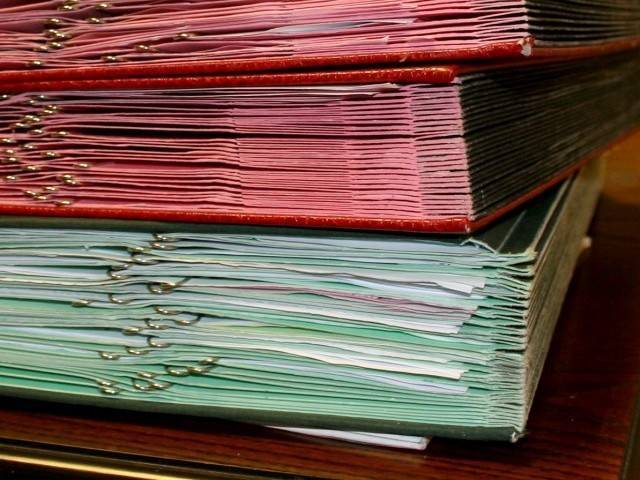 ---
KARACHI:



Sindh Board of Revenue (BoR), taking a lead in computerising revenue record in the country, has covered all 29 districts of the province and entered over 15 million pages in its database, claimed BOR's senior member Rizwan Memon on Tuesday.




While giving a presentation to Chief Minister Qaim Ali Shah at the CM House, Memon said the revenue record of 29 districts comprises over 15 million pages. "Our data entry firms have completed 90% entry of the revenue record by scanning documents and making their index."

Referring to the record of about 850 dehs (village) that was burnt after the assassination of Benazir Bhutto in 2007, the CM asked Memon as to what has been done to retrieve that record. Memon said a large portion of that record has been traced from microfilming units and said, "We have retrieved and computerised the record of 400 dehs and are still working on tracing the record of the remaining 450 dehs."

Board of Revenue member Zulfikar Shah said the revenue record had inherent flaws which were also rectified by adopting the proper procedure.

Zulfikar claimed that flaws were found in the division of shares, records had missing survey numbers and there were errors in calculation and in entries.

Zulfikar further said that with computerisation of the revenue record, he has found out that 78% are small farmers who own less than four acres of land while those who own four to 16 acres are 16% of the farmers. The land owners who own 16 to 100 acres are only six per cent while the owners who possess above 100 acres are hardly 0.34% of the total, Zulfikar claimed.

He added that 76% of land is owned by males and only nine per cent is owned by females. The remaining 15 per cent land is jointly owned by all, including children.

For the first time in Pakistan, a mobile application called 'Sindh Zameen' has been launched, Zulfikar said, adding that land records can be accessed through the application. More than 80,000 people have utilised this facility, he added.

Service centres

The BoR member claimed they have established 27 service centres. Of these 25 are functioning in the district headquarters and the remaining four would be made operational by the end of this month. "We have 108 qualified IT staff for all the 27 service centres," he said.

Talking about the facilities available at these centres, Zulfikar said the copy of land record can be obtained from any of the service centres through modern central database. "A specialised security based paper, with multiple security features and a QR code, has been used to prevent forgery."

Referring to the data centre established at Karachi, Zulfikar said it has the largest Sindhi language database in the world with seven Tera Bytes data comprising more than 15 million pages of land record. Zulfikar added that the conversion of 75 million pages of microfilmed data into digital data is under way that would be available online by the end of this year. Memon said that digital maps of 93 dehs of Karachi division and maps of the remaining districts of Sindh have been linked with the land record database.

Sindh chief secretary Siddique Memon invited the CM to inaugurate the computerisation system of revenue record, so that it can be made functional across Sindh.

The event was also attended by secretary to the CM Iqbal Durani and other revenue officers.

Published in The Express Tribune, April 6th, 2016.