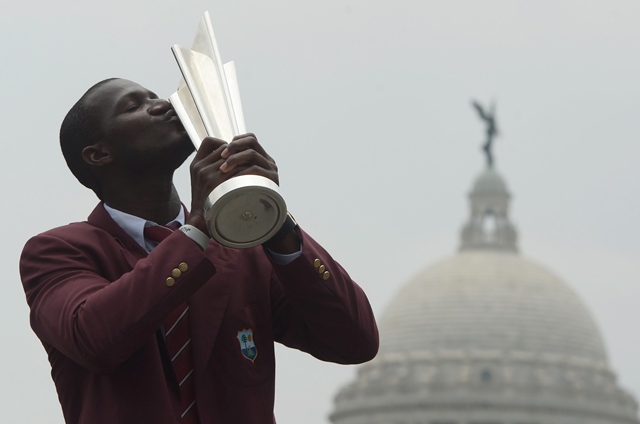 ---
KOLKATA: The West Indies board has offered talks with its new World T20 champions to defuse a long-running dispute, saying it wants to find ways of ensuring players don't turn their backs on international cricket.

The Windies' victory in the final in Kolkata on Sunday night was soured by an outburst from skipper Darren Sammy who said it was "disappointing" the team had received no support from the board before the match.

Dave Cameron, the board's president, responded by calling the comments "inappropriate" in a statement that reserved its warmest words for the tournament organisers rather than the victorious players.

West Indies board slam Sammy's 'inappropriate' remarks

However, Cameron did offer an olive branch by saying the board would meet players after the end of the Indian Premier League (IPL) next month to persuade them to play for the West Indies, rather than opt for lucrative T20 leagues.

"We want to see how we can find common ground in ensuring that the best players in the region are available for selection for the West Indies team," Cameron said.

"We are fully aware of the financial rewards on offer in the lucrative international T20 leagues, but we believe deeply in the importance of cricket to the people of the region and of West Indies cricket's place in world cricket.

"It is therefore a priority to have all of our players competing and available for selection."

Windies strike twice to lift two World T20 trophies

Relations between the board and team have often been poisonous in recent years, with players furious over what they see as inadequate financial rewards.

A pay dispute two years ago led to the team flying home in the middle of a tour of India and the players only reluctantly agreed to sign contracts for the World T20 a few weeks before the tournament began.

Many senior players such as Chris Gayle no longer play Test matches, instead turning out in T20 leagues where they can earn more money in six weeks than they are paid by their board in a year.

World T20 final: how Twitter saw it

When the West Indies were thrashed by Australia in a Test series at the turn of the year, Gayle and Sammy were both unavailable for selection as they were playing in Australia's Big Bash T20 tournament.

Amid growing fears that the proliferation of T20 leagues is turning some players away from Test matches, the International Cricket Council (ICC) has said it wants to draw up a timeable to avoid clashes.

Many of the West Indies T20 champions are expected to play in the IPL, which begins this coming weekend and ends in late May.

"We are aware of that schedule, hence the plan to meet at that time," said Cameron.

"We will also engage the ICC on this so that we protect not only the rich heritage and legacy of West Indies cricket, but also its future," he added.
COMMENTS
Comments are moderated and generally will be posted if they are on-topic and not abusive.
For more information, please see our Comments FAQ