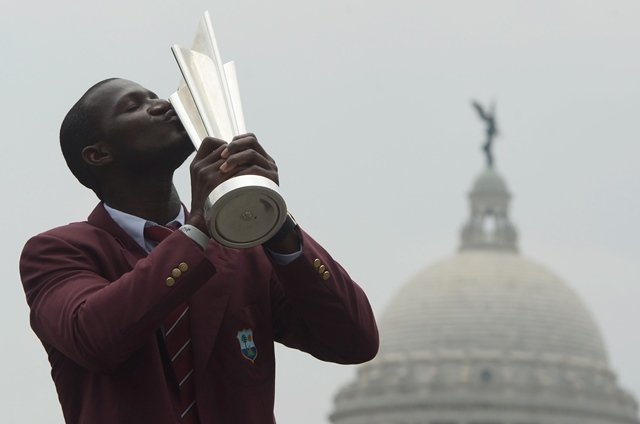 ---
West Indies captain Darren Sammy who represented Peshawar Zalmi in the Pakistan Super League thanked Pakistani fans in Pashto for their support for his team.

In a video posted on his Instagram page after his team's stunning victory in the World T20 final over England, Sammy said, "Ok, to all my Pakistani fans, I am going to try and speak your language."

West Indies steal World T20 title from England's clutches

The cricketer then spoke in Pashto and said, "I want to thank my Pakistani supporters for their support and will come to Peshawar soon. " "God bless Javed Afridi," he added.

https://www.instagram.com/p/BDwJMpFwIRf/

Meanwhile, Peshawar Zalmi team owner Javed Afridi promised a sum of $20,000 for the West Indies captain for displaying excellent team spirit in the world event.

Windies strike twice to lift two World T20 trophies


I here by announce a sum of USD:$20,000 for @darrensammy88 from Peshawar Zalmi platform for his excellent team spirit & over all performance

— Javed Afridi (@JAfridi10) April 3, 2016


Moreover, Javed announced a sum of $5,000 for Peshawar Zalmi opener Tamim Iqbal for being the highest run-scorer in the World T20 to which the Bangladeshi replied that he was humbled by the gesture.


I here by announce a sum of USD:$ 5000 for @TamimOfficial28 frm Peshawar Zalmi platform 4 being a highest runs scorer in #T20wc16 #zalmicare

— Javed Afridi (@JAfridi10) April 4, 2016
Very humbled by your gesture&appreciation @JAfridi10 Not every1 appreciates achievements.
Glad 2 hav been acquainted with you.#peshawarzalmi

— Tamim Iqbal Khan (@TamimOfficial28) April 4, 2016
@JAfridi10 eagerly waiting to get in action with the #zalmi team mates & meet my #peshawarzalmi fans

— Tamim Iqbal Khan (@TamimOfficial28) April 4, 2016


Earlier, before the PSL kicked off, Sammy had said that he was learning to speak Pashto and Afridi was impressed by his command over the language.

West Indies board slam Sammy's 'inappropriate' remarks

"I'm looking forward to playing for Peshawar and my Pashto is improving," said Sammy. "Shahid Afridi saw my video and said he was shocked to see me speaking Pashto. It's all part of the fun of mingling with people from different cultures and playing around the world."
COMMENTS (6)
Comments are moderated and generally will be posted if they are on-topic and not abusive.
For more information, please see our Comments FAQ