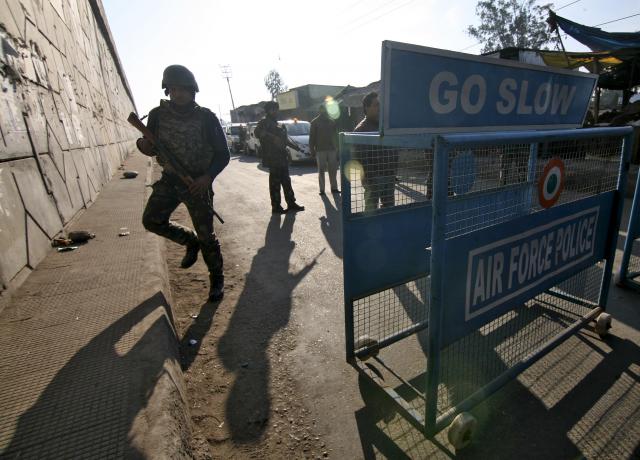 ---
The five-member Pakistani joint investigation team (JIT) on Thursday recorded statements of 13 witnesses of the attack on the Indian air force base in Pathankot. They were also handed over additional pieces of evidence.

The witnesses included Indian Punjab SP Salwinder Singh, his jeweller friend Rajesh Verma and cook Madan Gopal. The three had allegedly been kidnapped by the militants in the run-up to the attack.

The JIT had asked India's National Intelligence Agency (NIA) to provide them with tissue swabs of the four terrorists – identified as Nasir Hussain (Vehari), Hafiz Abu Bakar (Gujranwala), Umar Farooq (Sanghar) and Abdul Qayum (Sukkur).

However, NIA sources told the New Indian Express that they had instead provided a DNA report of the militants and asked them to match it with their family members. NIA now expects the JIT to complete its work today (Friday).

"Talks are at a conclusive stage and hopefully by tomorrow afternoon everything will be over," said NIA Director General Sharad Kumar. He added that the JIT had told NIA that one suspected Jaish-e-Muhammad (JeM) handler, Kashif Jaan, had been missing ever since his name first surfaced and that authorities were searching for him.

NIA also identified another JeM handler as Shahid Latif and asked that he should be questioned. Details of two websites, which carried messages from Adbdul Rauf after the terror strike, were also handed over to the JIT.

NIA has also sought access to JeM chief Masood Azhar and his brother Rauf, and has told the visiting team that till India's request remains pending with authorities in Islamabad, it would like the JIT to question the two about their role in the attack and provide their statements to the NIA.

Published in The Express Tribune, April 1st,  2016.