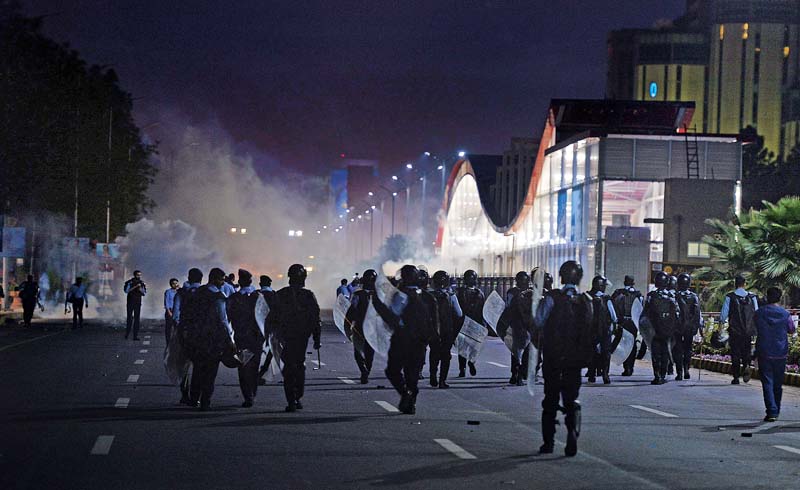 ---
ISLAMABAD/ KARACHI: The government called in army troops in the federal capital on Sunday after thousands of supporters of Mumtaz Qadri, the self-confessed killer of former Punjab governor Salmaan Taseer, stormed the high security red-zone and besieged the Parliament House and other key government installations.

Qadri was hanged on February 29, triggering a strong reaction from religious, and some politico-religious parties. On Sunday, thousands of workers of religious groups gathered in the garrison city of Rawalpindi to observe Qadri's Chehlum. Later, they started marching towards Islamabad where they gathered on the Constitution Avenue.

Pro-Qadri supporters clash with police near parliament




The red zone, adjacent to the Constitution Avenue, was barricaded with containers and heavy contingents of police, Frontier Constabulary and Rangers were deployed. Riot police carrying batons and shields fired tear gas to try to prevent them pushing closer to the red zone. Some protesters set fire to a container while chanting slogans.

As the ranks of protesters surged, they managed to enter the red zone where they surrounded several key installations, including the Parliament House. They again clashed with the law enforcers in chaotic scenes. Around 61 people – mostly law enforcers – were wounded in the melee. Earlier protesters also set fire to a metro bus station, a fire engine and several vehicles.

The media bore the brunt of protesters' fury as they attacked media persons, injuring some of them and damaging their equipment. The protesters claimed that the media was not covering the event in an objective manner.

Senior Glasgow imam praises Mumtaz Qadri

When the situation went out of control in the evening, the government called in the army. "The army has been requisitioned by the government to control the situation and secure the red zone," the chief military spokesperson Lt Gen Asim Bajwa wrote on Twitter.

The Islamabad administration engaged the protesters in negotiations, who had staged a sit-in at D-Chowk. The government succeeded in preventing the protesters from marching deep into the red zone. In the meantime, army troops reached the spot and started controlling the situation.

The protesters demanded that the government scrap any plans to amend the blasphemy laws, and execute all those convicted of blasphemy, including Asia Bibi. They also called upon the government to declare Mumtaz Qadri a 'Shaheed (martyr)' and announce a public holiday in his name.

Protesters attack Karachi Press Club

Meanwhile, dozens of armed protester stormed the Karachi Press Club, beat up journalists and tried to set a DSNG van on fire.  Around 5pm nearly 50 men, reportedly belonging to the Anjuman Talaba Islam (ATI), started a protest outside the KPC against the execution of Mumtaz Qadri.

My father's killer's funeral

The situation, however, turned violent when the men – equipped with arms, sticks and petrol cans – tried to enter the KPC premises. "When they were stopped from entering the building, they beat up journalists and also tried to set the DSNG van of a private TV channel on fire," said the KPC President Fazil Jamili, while talking to The Express Tribune.

Published in The Express Tribune, March 28th,  2016.
COMMENTS
Comments are moderated and generally will be posted if they are on-topic and not abusive.
For more information, please see our Comments FAQ