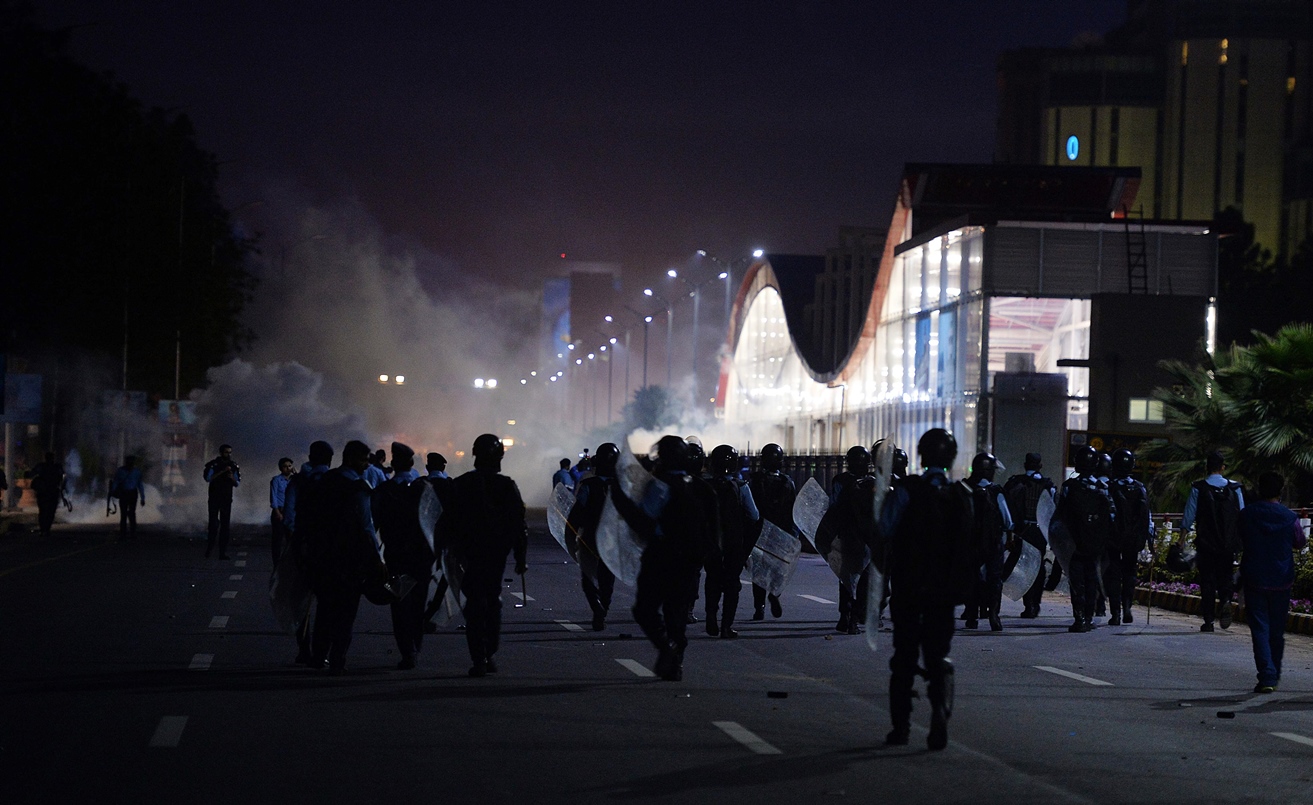 ---
ISLAMABAD: Pakistan Army deployed troops on the streets of the capital Sunday after thousands of stone-throwing supporters of Mumtaz Qadri who was hanged last month clashed with police in chaotic scenes.


Update-2/Law and Order Isd:Army troops arrive Red Zone

— Gen(R) Asim Saleem Bajwa (@AsimBajwaISPR) March 27, 2016


Qadri was executed on February 29 for killing a Punjab governor over his call for blasphemy reform in what analysts said was a "key moment" in Pakistan's long battle against religious extremism.

An estimated 25,000 supporters of the former police bodyguard gathered in Islamabad's twin city Rawalpindi in the afternoon to offer prayers, before turning toward the heavily-barricaded capital, which was patrolled by hundreds of police and paramilitary soldiers.

Riot police carrying batons and shields fired tear gas to try to prevent them pushing closer to the city centre. Some protesters set fire to a container while chanting slogans.


2100 Hours Update Law and Order Isd:Army has been requisitioned by the Govt to control situation and secure Red Zone

— Gen(R) Asim Saleem Bajwa (@AsimBajwaISPR) March 27, 2016


Senior Glasgow imam praises Mumtaz Qadri

A military spokesperson tweeted late Sunday that the army had been requisitioned to "control" the situation and secure the Red Zone around Parliament, where protesters were gathering.

Qadri was working as a bodyguard for Punjab governor Salmaan Taseer when he shot him in 2011 over the governor's call to reform the blasphemy law, which critics say is frequently misused to oppress religious minorities.

Sunday's unrest came hours after a group of angry men assaulted a former pop star accused of insulting the Prophet Mohammed's (pbuh) youngest wife, in the latest case of vigilante violence linked to blasphemy.

Ex-singer Junaid Jamshed, who is now a prominent Sunni evangelist, was leaving Islamabad airport on Saturday night when he was set upon by a group of around six men who were waiting to attack him at the exit.

The incident was captured on mobile phone video and has been widely viewed.




Jamshed was forced to flee back into the airport. In a later Facebook posting, he said it was time for the nation to decide it "will not let these religious fanatics prevail amongst us".
COMMENTS (12)
Comments are moderated and generally will be posted if they are on-topic and not abusive.
For more information, please see our Comments FAQ