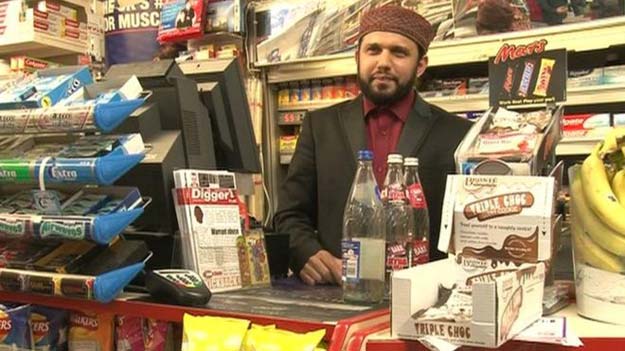 ---
A British-Pakistani shopkeeper in Glasgow succumbed to his wounds after being stabbed by a fellow Muslim on Thursday for posting social media messages wishing his customers a happy Easter.

Asad Shah, 40, was stabbed 30 times by a Muslim man wearing a long religious robe, according to Daily Mail. He was pronounced dead on arrival at the Queen Elizabeth University Hospital after being found seriously injured in Minard Road, Shawlands.

Former imam found 'murdered' in London

[fbpost link="https://www.facebook.com/permalink.php?story_fbid=1669750269966472&id=100007945443146"]

"Good Friday and very happy Easter, especially to my beloved Christian nation x!" the 40-year-old had posted from an account that appears to be his.

A 32-year-old Muslim man suspected of being behind the attack has been arrested. The police are treating it as a "religiously prejudiced" attack.




Tributes poured in for Shah, with flowers being placed at the scene as people took part in a silent vigil in memory of the shopkeeper.

Residents expressed shock and sadness at Shah's death, describing him as a 'gentleman'. Brothers Qaiser and Omar Khan said they knew Shah well and had repaired his cars in the past. They described him as "a humble, sweet person."

London 'more Islamic' than Muslim world: Pakistan-born Islamic scholar




"I've known him since I was a wee boy so this is shocking news. He was a very straight-forward, humble person who was very good with his customers. He cared about his family a lot," Omar said.

Another local, Isabella Graham, 64, said Shah employed her daughter at the shop when she was younger. "He was an amazing, wonderful man, he couldn't do enough for you. He wouldn't hurt anybody. Nobody in Shawlands would have a bad word to say about him. I can't believe he's gone."

Several people from all faiths took to Twitter to pay tribute to Shah using the hashtag  #thisisnotwhoweare:


100s of people came together tonight to pay their respects, say a wee prayer or silently reflect #thisisnotwhoweare pic.twitter.com/b3D2gGsj5x

— Gail Lythgoe (@GailLythgoe) March 25, 2016


https://twitter.com/unido_en_lucha/status/713506337225838597


attended this vigil as a family, because #thisisnotwhoweare pic.twitter.com/zNBpSpBmSL

— sofargone (@lynnos) March 25, 2016
Terrible to hear about the passing of Asad shah went to his shop for years a humble man who was an asset for #shawlands #thisisnotwhoweare

— Crostanhughman (@MRSocialSavior) March 25, 2016


https://twitter.com/MrVinDJ/status/713509097589633024


Big memorial to Asad Shah, who was brutally murdered on my street yesterday, with the hashtag #thisisnotwhoweare pic.twitter.com/7nDoyq2QBy

— Naomi O Kelly (@_nokelly) March 25, 2016
We will not forget you Mr Shah, Rest in Peace #thisisnotwhoweare pic.twitter.com/tZqyDhvSkq

— lorraine cleaver (@lorrainecleaver) March 25, 2016
Terrible news of the death of Asad Shah. Always made everyone feel like a friend. Our community has lost a great friend.#thisisnotwhoweare 💔

— Pearl&Plum (@pearl_and_plum) March 25, 2016
I'm so sad tonight thinking of Mr Shah who was murdered 😓 sounds like he was an amazing human who's life was sadly taken #thisisnotwhoweare

— Jennifer MacMillan (@jengirlxo) March 25, 2016
Good on the people of #Shawlands tonight. Telling everyone #ThisIsNotWhoWeAre in #Glasgow #SCO
RIP #AsadShah pic.twitter.com/voZlmmhw8K

—  DavieB 🏴󠁧󠁢󠁳󠁣󠁴󠁿🇪🇺 (@davieb719) March 25, 2016
Crowds round corner &behind police morn loss of Asad Shah:unconditional real love for all mankind#ThisIsNotWhoWeAre pic.twitter.com/LGSTnhdWnJ

— Marie (@MarieGaSha) March 26, 2016


https://twitter.com/daniel_twist/status/713505007337922560

https://twitter.com/stephenac91/status/713556308000161792


I know Glasgow well enough to know that is not who you are. #thisisnotwhoweare 😔

— Mel 🇪🇺 (@meljomur) March 26, 2016
feeling heartbroken. my thoughts are with Asad Shah's family. #thisisnotwhoweare

— Guinevere Glasfurd (@GuinGlasfurd) March 26, 2016
Hundreds of people gathered in solidarity tonight in Shawlands to remember Assad Shah #thisisnotwhoweare pic.twitter.com/PL1Pt6LrYf

— Lotte Fisher MP (@LotteFisher) March 25, 2016
Incredible unity in grief tonight in Glasgow.#thisisnotwhoweare pic.twitter.com/U17Zl9P4cl

— James Doleman (@jamesdoleman) March 25, 2016
The article originally appeared on BBC.