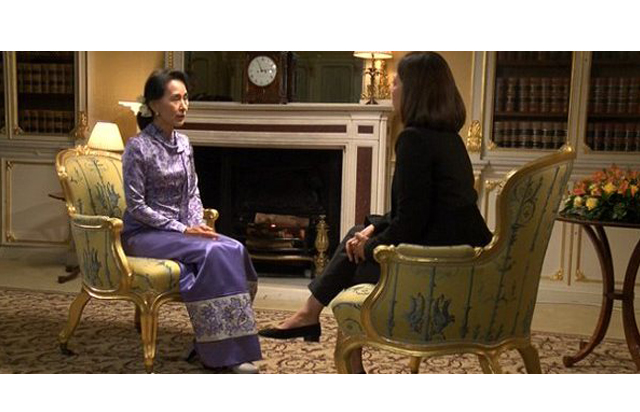 ---
Nobel Peace Prize laureate, Myanmar politician Aung San Suu Kyi recently lost her cool during an interview with BBC's Mishal Husain.

After getting grilled by the BBC presenter, Suu Kyi considered a symbol of virtuousness in the West, angrily muttered off-air: 'No one told me I was going to be interviewed by a Muslim.'


'no-one told me I was going to be interviewed by a Muslim' Suu Kyi about BBC Today presenter Mishal Husain https://t.co/P9UOADzDmc #Burma

— akif عاكف‎ (@khaans) March 25, 2016


Myanmar's Suu Kyi says don't 'exaggerate' Rohingya plight

The spat between the two notable Asian women has just emerged according to a new book, The Lady And The Generals: Aung San Suu Kyi And Burma's Struggle For Freedom, by Peter Popham.

During the interview, Husain repeatedly asked Suu Kyi to condemn anti-Islamic sentiment and the wave of mob-led massacres of Muslims in Myanmar, and she declined to do so.

However, she said: "I think there are many, many Buddhists who have also left the country for various reasons," she replied. "This is a result of our sufferings under a dictatorial regime."

The Nobel laureate's vague attitude towards the violence suffered by Myanmar's Muslim minority has alarmed even her most devoted fans.

Most of the country's huge Buddhist majority dislikes its small Muslim community with a passion, so it is thought Suu Kyi did not want to alienate her supporters.

A lone Muslim campaigns in Myanmar's stronghold of radical Buddhism

Muslims make only  4 per cent of population in Myanmar. The Rohingya Muslims, who have stood the brunt of the violence, are an even smaller minority.

Husain, 43, was the first Muslim presenter of Radio 4's Today programme. She is a mother-of-three and Northampton-born daughter of Pakistani parents was educated at private school and Cambridge University.

This article originally appeared on Mail Online.


COMMENTS (65)
Comments are moderated and generally will be posted if they are on-topic and not abusive.
For more information, please see our Comments FAQ