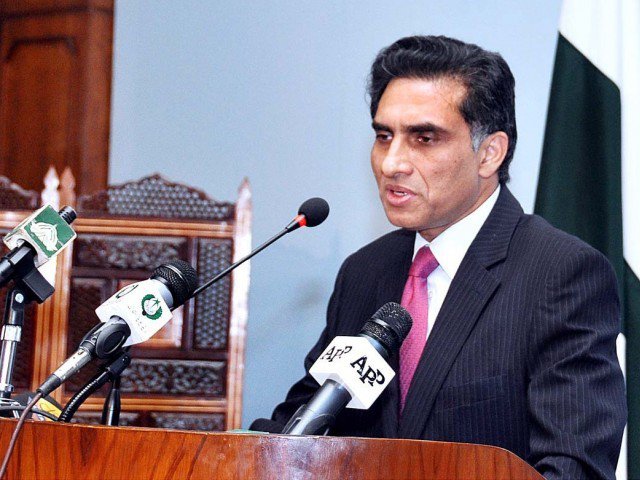 ---
Pakistan lodged a protest with India on Friday over the country's "spying activities" in Balochistan and Karachi, Express News reported.

Foreign Secretary Aizaz Chaudhry summoned the Indian High Commissioner to the Foreign Office to lodge a formal complaint. The move comes a day after the arrest of an Indian naval intelligence officer in Balochistan.

'RAW officer' arrested in Balochistan

"Through a demarche the Foreign Secretary on Friday conveyed Pakistan's protest and deep concern on the illegal entry into Pakistan by a RAW officer and his involvement in subversive activities in Balochistan and Karachi," a press release issued by office of the FO spokesperson stated.

"Kul Yadav Bhoshan, a commander-ranked officer in Indian Navy was working for RAW and was in contact with Baloch separatists and terrorists fuelling sectarian violence in Pakistan and Balochistan," Bugti told the media. The minister, however, did not disclose the exact location of where the man was arrested.

Express News reported the security forces arrested the 'serving' Indian officer near the Pakistan-Afghan border region of Chaman, Balochistan. The suspect, who is believed to have been working with insurgent commanders in the region, has been reportedly moved to Islamabad.

Pakistan summons Indian witnesses in Mumbai attack to appear before ATC

"The Indian spy was involved in financially supporting terrorists and also confessed to his involvement in Karachi unrest," Bugti told reporters.

Balochistan Chief Minister Sanaullah Zehri said the provincial government had long been vocal on RAW's covert operations in Balochistan.

Last year in September, three dossiers containing proof of Indian involvement in terrorist activities in Pakistan were handed over to the United Nations.
COMMENTS (11)
Comments are moderated and generally will be posted if they are on-topic and not abusive.
For more information, please see our Comments FAQ