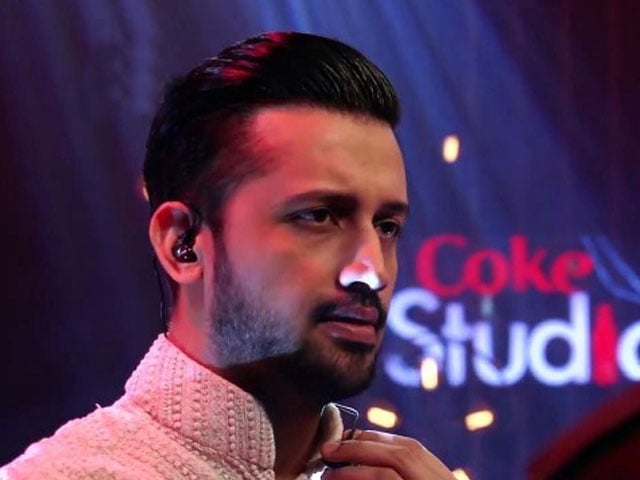 ---
It wouldn't be entirely wrong to say that over the years, singer Atif Aslam has been a constant in Coke Studio. Producers, house band members and guest artists all came and left, but the show continued to bank on its most prolific performer.

However, only a year after delivering one of the biggest hits in the history of the show, Tajdar-e-Haram, Atif has decided against featuring on Coke Studio's ninth season.

Talking to The Express Tribune, the hitmaker revealed that despite the overwhelming response he received last year, he chose to take a break from the popular music show this time. "I have said no to Coke [Studio] for this year and have decided to instead focus on my own projects for now," he said.




In harmony: Amjad Sabri throws weight behind Atif Aslam

While the news may come as a surprise to many of his fans, it is pertinent to note that he has never appeared in the show's back-to-back seasons, barring season five and six during the Rohail Hyatt era. "In all, I did three songs during the eighth season. Now I just want to see the response Coke Studio gets this year," he explained.

A tribute to qawwali icons, the Sabri brothers, Tajdar-e-Haram has so far garnered 18.6 million views on YouTube alone. "Tajdar-e-Haram became immensely popular with listeners last year. I am looking forward to what they have on offer in the coming season," he added.

During an earlier interview with The Express Tribune, the musician made a telling revelation on how the hit song had been co-produced by him and Shiraz Uppal and not Strings.

On the other hand, it is said that the show is undergoing a major overhaul and will see more than one producers helm the upcoming season by working on an episode each.




'Tajdar-e-Haram was produced by Shiraz Uppal'

Atif's absence from this edition will come as a setback for the show. While his naysayers may argue too much of anything is bad, he has so far contributed 12 tracks to the show, collaborating with the likes of Qayaas, Mai Dhai, Gul Panra and Riaz Ali Khan.

A regular performer in live shows, Atif claimed that he has plans of working towards a new studio album. "I will continue with my live shows but apart from that, I am also aiming to start work on my next album," hinted the Jal Pari singer.

The yet-to-be-titled album will be his fourth record and his first since Meri Kahani. In recent times, Atif has emerged as one of the most successful playback singers in Bollywood, belting out hits after hits and working on projects such as Race, Tere Naal Love Hogaya and Bajrangi Bhaijaan. He has also worked on successful Pakistani films such as Bol and Ho Mann Jahaan. His songs Aadat, Ehsaas and Bol Ke Lab have also been featured in international movies – Man Push Cart and The Reluctant Fundamentalist.

There is a need for more shows like Coke Studio: Arif Lohar

Music platforms:

Despite his phenomenal success on music streaming portals like Saavn and Gaana, Atif is yet to sign up with Pakistani streaming website, Patari. Explaining the cause of the delay, the singer said, "I'm waiting for them to offer me a better deal because they would be making money off me later on."

When approached for a comment, Patari founder Khalid Bajwa said they are in preliminary negotiations with Atif's representatives. "We have some of his songs through other record labels but we're trying to get his entire collection on our portal," Bajwa said. According to him, Patari offers the same deal to all artists.