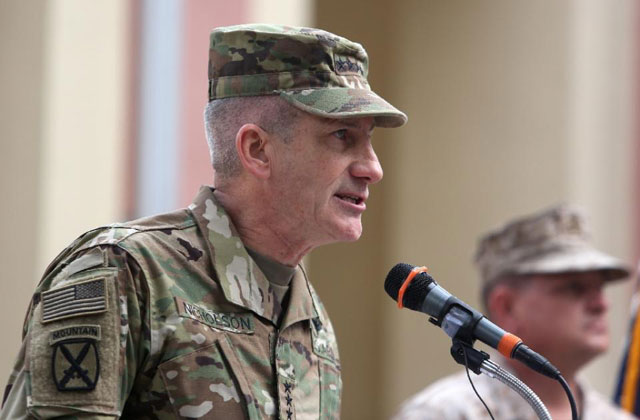 ---
KUNDUZ: The new commander of US and NATO forces in Afghanistan apologised Tuesday to the victims of a devastating bombing raid on a Doctors Without Borders (MSF) hospital last October which left 42 people dead.

General John Nicholson's apology comes after US officials last week said military personnel involved in the strike in northern Kunduz city had been disciplined but face no criminal charges, prompting a strong rebuke from rights campaigners.

Outgoing US CENTCOM commander praises operation Zarb-e-Azb

Nicholson on Tuesday met family members of victims and the staff of the now-shut MSF trauma centre during his first visit to Kunduz since assuming command of the NATO mission in Afghanistan last month.

"As commander, I wanted to come to Kunduz personally and stand before the families, and... to deeply apologise for the events which destroyed the hospital and caused the deaths of staff, patients and family members," he said, according to a transcript released by NATO.

"I grieve with you for your loss and suffering; and humbly and respectfully ask for your forgiveness."

MSF, which has called repeatedly for an independent international inquiry into the bombing, did not immediately comment.

The medical charity has previously branded the strike as a "war crime", saying the raid by a AC-130 gunship left patients burning in their beds with some victims decapitated and suffering traumatic amputations.

A US investigation found that the raid was a "tragic incident" caused primarily by human error. President Barack Obama has also previously apologised for the incident.

The strike came amid fierce clashes after the resurgent Taliban briefly captured Kunduz city in their biggest military victory since they were toppled from power in 2001.

US should remain in Afghanistan to protect Pakistan's nuclear arms, says Trump

Kunduz residents fear that the Taliban could recapture the provincial capital as the militant group prepares for its upcoming annual spring offensive which is expected to bring more intense fighting.

"You may have heard that the Taliban want to take Kunduz again -- they will not," Nicholson said during his visit.

"The Taliban want you to think that your government and the (military) coalition will abandon you -- we will not."