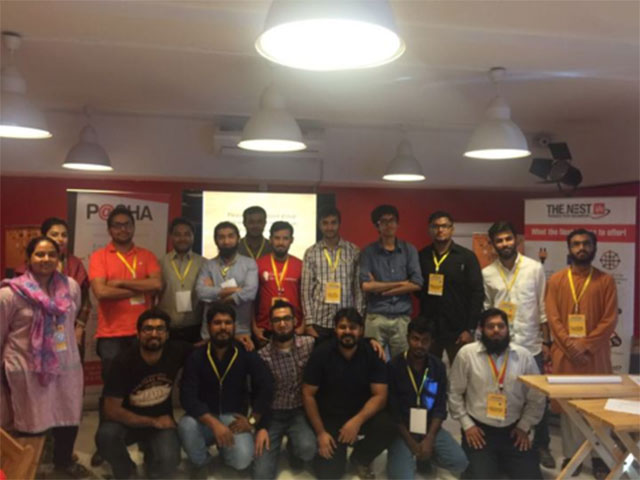 ---
KARACHI: If you are into technology, chances are you probably already know what a hackathon is. If you're one of the many who don't know, a hackathon is a competition where developers work together over the course of a few days/weeks to find solutions to a particular problem.

Working along these lines, Elaj Trust, a Karachi-based organisation held a two-day event titled 'Health Tech: Hackathon', in collaboration with [email protected] and The Nest I/O.

Going avant-garde: Calling all innovators to come up with ideas to improve Karachi

"The initiative was taken to facilitate the dialogue, and introduce new ideas that can solve various health issues plaguing our country," Elaj Trust co-founder Jibran Nasir, who is also a rights activist, said.

"Elaj Trust is playing the role of a catalyst in a society where we can work on a lot of challenges facing the country," he added.




Jibran was of the opinion that by initiating a dialogue people take their own streps to respond to challenges Pakistan faces today, the way people helped their fellow countrymen on their own initiative when last year's heatstroke claimed hundreds of lives in Karachi.

"We just need to give our people a narrative and idea to work on. We saw how [a large number of] people came out to hospitals to volunteer and help out during the deadly heatstroke last summer in Karachi. In fact, we had to ask some of them to leave as we had plenty volunteers already. This zeal was there because a narrative was formed thorough media that if this issue is not resolved, Karachi will see more deaths," he said, on the opening of the two-day event.

The conference, mostly attended by young entrepreneurs, developers and doctors, focused on finding a problem and giving it a solution by employing software technology.

Jibran Nasir lashes out at Sindh CM over 'deplorable' hospital conditions

On the first day of the event, as many as 15 ideas on some pressing health issues were pitched and presented, which were then shortlisted for participants to work on towards their viable solution.

Two young professionals, Zohaib Karim and Shoaib Lalani, presented an application concept called 'Ambusolve' which focused on decreasing the time required to dispatch an ambulance in an emergency situation.




"We came up with this idea because one of us had to go through live through the ordeal. A relative's life was lost because she was not taken to the hospital on time," they said.

Ambusolve, as described by the presenters, will be an application which will allow people to arrange ambulance services in less than four minutes.

"If this idea gets supported and we are successful to create the application, it will help a number of social work organisations to send their ambulances in [comparatively] less time," they added.

Health care: need of the hour

Another group of students from the Institute of Business Administration (IBA) presented an idea based on collecting donations for underprivileged patients more efficiently.

Syed Ahsan Tanweer and Dayam Siddiqui pitched 'Crowdfunding for Public Health' which involved connecting patients with donors while also keeping hospital management in the loop.




"We want to provide a web platform where donors can browse through patient profiles and donate directly," Tanweer said.

"This will help eradicate the trust deficit of donors who don't always know where their money might go," he added.

After the ideas pitching session, the mentors called in by the organisers of Hackathon helped the young minds further refine their ideas.

In-charge e-Learning at Dow University of Health Sciences (DUHS) Dr Masood Jawaid, Founder of the Health Management Programs at the IBA Karachi Dr Minhaaj Qidwai, Director doctHers Dr Sarah Saeed Khurram and General Manager IT GSK Zainab Hameed took it upon themselves to guide the young innovators through their ideas.

The two-day conference culminated on Saturday with an APP proposal titled "Triage" winning the show. Co-trustee of Elaj Dr Talha Rehman said that the trust would now look for sponsors and try to create the application that would be helpful in resolving health issues present in society.


COMMENTS (1)
Comments are moderated and generally will be posted if they are on-topic and not abusive.
For more information, please see our Comments FAQ