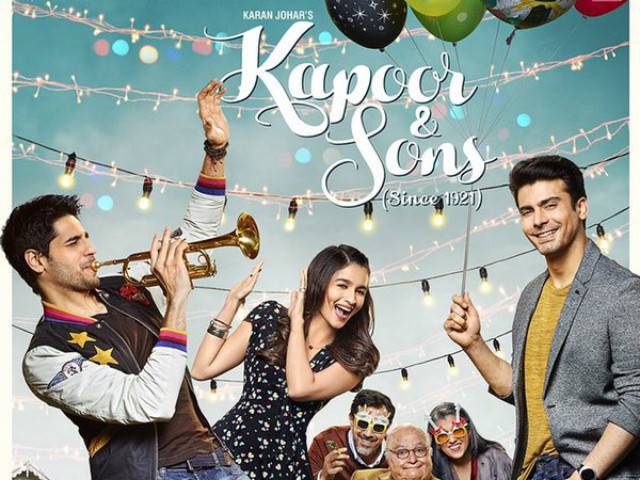 ---
Shakun Batra's Kapoor and Sons is a beautifully shot, perfectly airbrushed family drama set in the hill station of Coonoor in southern India.

Star-studded selfie: Fawad, Alia, Sid wrap up Kapoor and Sons

The word 'dysfunctional' has made its way to the publicity material for the film, but film-maker Batra's version of dysfunctional is superficial at best, almost as if he is afraid of getting his hands too dirty and sullying the near perfect visage of his film.




The Kapoor family has its issues, but these are issues apparently solvable with just one look at an old photo album or one heated outburst. Still, Batra creates a very watchable portrait of a house in crisis.

When Rahul (Fawad Khan) and Arjun (Sidharth Malhotra) return to their Coonoor house after their grandfather (Rishi Kapoor) has a heart attack, skeletons start tumbling out of closets. Dad (Rajat Kapoor) and Mom (Ratna Pathak Shah) seem to be bickering all the time, and the already fragile relationship between the parents and the children becomes even more strained when they are all in the house together.

Rahul, a successful novelist living in London, is remarkably mature. Arjun is the black sheep of the family, the one who was never good enough and is always falling short of Rahul's "perfect" standards. He floats from one job to the other while harbouring dreams of becoming an author himself.

The two brothers don't see eye to eye and their separate encounters with Tia (Alia Bhatt), the girl next door, makes the equation more complicated. Things come to a head one rainy afternoon as the Kapoors get ready for a family portrait.

Batra handles this bit beautifully, eschewing dialogue and using sweeping shots to depict the crumbling façade of the happy family trying so hard to keep it together.

In spite of the obvious lack of depth, and the rather predictable problems and solutions, Kapoor and Sons is powered by some great performances. Alia Bhatt and Sidharth Malhotra are the weakest of the lot, mainly because they are saddled with one-toned characters.

Rajat Kapoor and Ratna Pathak Shah are fiery as the troubled Kapoors, but it is Fawad Khan who steals the show with a nuanced portrayal of a man with a tumultuous mind but a calm exterior.




This is not a dysfunctional family by any means – families don't heal so easily. Just like last year's Dil Dhadakne Do, Kapoor and Sons tiptoes around the really ugly issues and ties up the ends conveniently.

Fawad parties it up in first look of 'Kapoor and Sons'

This family may not be happy in the beginning, but you know there's going to be a happy family shot in the end. This might be the new-age family drama, but the message is still the one Bollywood has drilled into us all these years – it's all about loving your family.
COMMENTS
Comments are moderated and generally will be posted if they are on-topic and not abusive.
For more information, please see our Comments FAQ