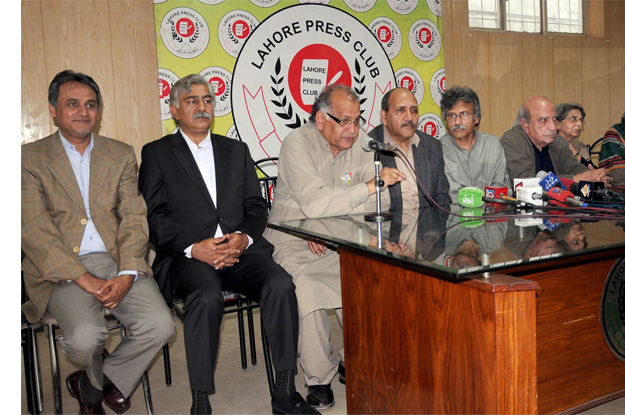 ---
LAHORE:



A joint action committee (JAC) comprising political and human rights activists and civil society members has called for a rally in support of the Women Protection Against Domestic Violence Act at Charing Cross at 3pm on Saturday (today). This was announced at a press conference by several JAC members on Friday.




Speaking at the press conference, Human Rights Commission of Pakistan general secretary IA Rehman said every step taken in the country that appeared to favour women, was unfortunately opposed.

"Since the law was passed in February, it has been criticised by some religious organisations...they say that it is not in line with Islamic teachings."

Rehman said a reservation against the law was that it was liable to be misused by women to exploit men. "This is not a religious matter but a legal one." He said the law also dealt with the issue of false accusations.

If the law talked about tracking men or ordering them to leave their houses, this was a matter the law placed in the hands of the court in circumstances where an act of grave violence had already occurred or was likely to occur, he said. "We believe the Act is already lenient, especially because a person who has inflicted violence on another should already have been put in jail," he said.

Rehman highlighted various aspects of the law and said that Balochistan and Sindh had already passed laws pertaining to domestic violence. "It is usually the Punjab that sets legislative trends...in this case they have lagged behind," he said. Neelam Hussain, executive director of Simorgh, said that various organisations opposing the law were using it to gain attention. "We don't expect the government to buckle under pressure and retract the law because [if it does so] the government will lose its legitimacy," she said.

Irfan Mufti of the South Asia Partnership Pakistan said the law had been passed by the Provincial Assembly and therefore reflected the will of the people. He said those opposing the law were not members of the assembly and therefore did not speak for the people of the Punjab. "We believe in the supremacy of the Constitution and the parliament."

He demanded to know which clause of the law was against the spirit of Islam. He said the law had been discussed in 18 committees of the assembly and had been approved by religious leaders as well.

Farooq Tariq of the Awami Workers' Party said that the AWP will use the forum to bring all political parties to support of the Act.

Tariq said that they opposed the vitriol spouted against women by those opposing the law. "They have said they will start a campaign similar to the one in 1977. Do they want martial law in the country?"

Tariq said they would take a firm stand against any such movement.

Published in The Express Tribune, March 19th, 2016.