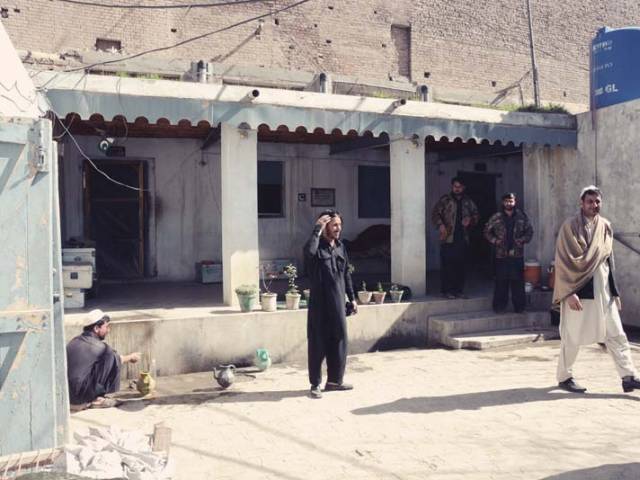 ---
LANDIKOTAL/PESHAWAR:



Noor Muhammad—Nooru as his friends call him—was only a teenager when he inherited his uncle's post in the khasadar force in Landikotal, Khyber Agency. His uncle had retired after completing 25 years of service and had no male heir who could replace him.




Still young, Nooru, who had only studied till class 10, took the plunge without realising his decision would close the door on all prospects for a better life. Speaking to The Express Tribune, the 24-year-old khasadar official says he did not want to enter the militia.




"I was interested in playing football and wanted to study further," he says.

Manning check posts in dark territory

Closed spaces

Nooru lives in residential quarters in Landikotal Bazaar along with 35 other khasadars.

There are only three rooms in this dilapidated structure with no windows and system of ventilation. The rooms are packed with at least six charpoys and are each shared by 12 personnel.

The claustrophobic living arrangement becomes all the more difficult to endure as all 36 inhabitants have to share one makeshift toilet. Many of them are forced to wash their face, clean their teeth and perform ablution in an open courtyard.




Their kitchen is a boxlike structure with no stove or utensils to cook food.

Most of Nooru's roommates have to pool in their resources to arrange for their meals. "We only manage to get a plate of daal [lentils] per meal," he adds.

Nooru earns Rs14,000 per month – just a little over minimum wage for someone who has to be on call 24 hours a day and under threat. Like most khasadar personnel, he uses his allowance to purchase his own weapons, food and get his black uniform tailored. 

Playing with danger

Their morning does not start with a hearty meal and some leisurely time around the breakfast table. Instead, the assistant political agent informs khasadars about the search operations to be conducted during the day.

"Whenever FC officers initiate a search operation, we are expected to accompany them," Nooru explains. "We also have to patrol areas as and when we are told to do so."

Fixing the system: Khasadar, levies personnel barred from clerical jobs

A large number of khasadar men have died during search operations. Some have lost their lives in attacks while patrolling. In fact, Nooru's residential quarters were also targeted in a grenade attack in 2013. "We fear for our security and the safety of our families," he says. In addition, khasadar officials do not have adequate training and equipment to deal with eventualities. They often end up removing explosive devices with their bare hands. 

Left in the lurch

Khalil Afridi, another khasadar officer, who has been in service since the last 15 years, tells The Express Tribune most personnel from the militia do not receive a health care allowance.




"We end up paying for our own treatment at hospitals in Peshawar if we are critically injured."

In contrast, Shakir Shinwari, a levies soldier, earns Rs19,000 every month.

"Many levies personnel have asked for an increment," Shinwari said. "However, khasadar officials have not raised their voices in this regard."

Position of (dis)honour

"The khasadar force was appointed by the British from local areas to ensure security along the Afghan border," an official at Michni Post told The Express Tribune. "It was a position of honour."

Khasadar attacks in Mohmand: Jirgas reminded of collective responsibility

"The khasadar system was a means of exerting the state's influence over a tribe," said Ijaz Khattak, University of Peshawar international relations department professor. "However, due to socio-economic changes, the role of the khasadar force has become weak and redundant."

Consolidated force

Senator Al Haj Taj Mohammad from Fata tells The Express Tribune the plight of khasadar officials can only be resolved if the status quo is changed. "We are planning to merge khasadar and levies forces and create a [new] police force," he explains. "Pensions will be at par with the police. However, this can only happen if Fata is merged with K-P."

When contacted, Fata former security secretary Brigadier (retd) Mahmood Shah tells The Express Tribune khasadar officials are not considered government servants. "An allowance is given to a tribe to ensure security and protection in a particular region," he says. "This is distributed among khasadar officers."




According to Shah, it is not the government's duty to provide khasadar personnel a place to live. "A law-enforcement force should be established [in Fata] to provide them with reasonable pay, pension packages and a place to live," he adds.

Published in The Express Tribune, March 14th, 2016.
COMMENTS
Comments are moderated and generally will be posted if they are on-topic and not abusive.
For more information, please see our Comments FAQ