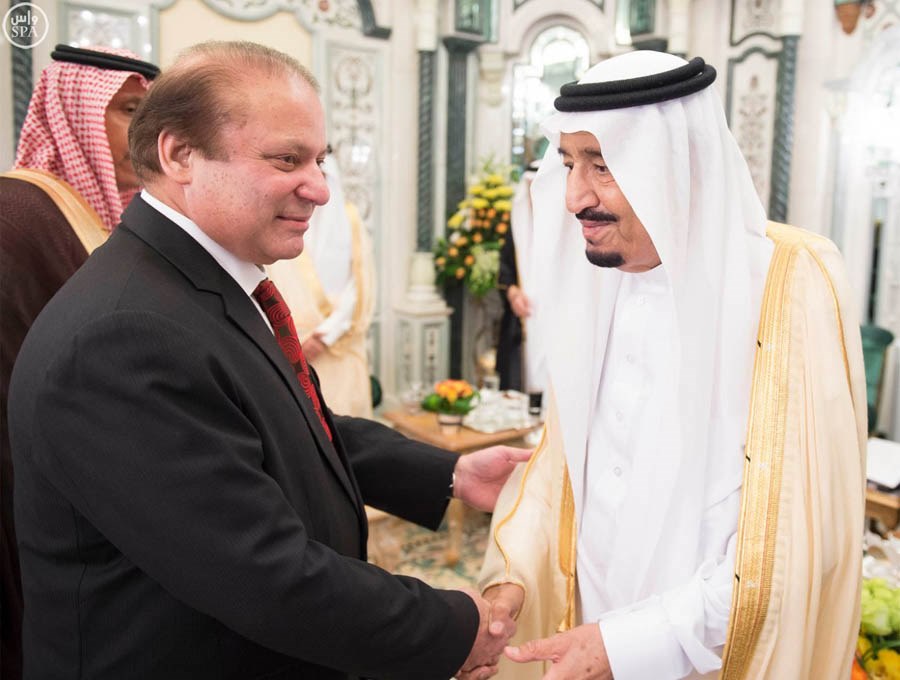 ---
Prime Minister Nawaz Sharif praised the enhanced cooperation between Pakistan and Saudi Arabia particularly in commercial, economic and investment sectors.

The appreciation came during the premier's meeting with King Salman bin Abdul Aziz in the Saudi city of Hafr al-Batin, Radio Pakistan reported. PM Nawaz expressed gratitude to the King for Saudi Arabia's strong and consistent support to Pakistan.

PM, army chief arrive in Saudi Arabia

Further, the premier lauded the successful completion of the joint military exercises which brought together contingents from two dozen Islamic countries.

"Such exercises will promote unity among Pakistan and Saudi Arabia and will demonstrate their resolve to further step up efforts to counter militancy and terrorism," PM Nawaz said.

Armed forces from 20 countries, including Pakistan, participated in the 'Thunder of the North' military manoeuvres in northeastern Saudi Arabia that has been described as one of the world's biggest military exercises.



Expressing appreciation to premier Nawaz for accepting the invitation to witness the joint military exercises, King Salman said, "the exercises have enhanced cooperation and understanding between armed forces of the two countries and reinforced existing bilateral relations."

Islamabad to extend military cooperation with Riyadh

Chief of Army Staff General Raheel Sharif and Special Assistant to the Prime Minister Tariq Fatemi were also present on the occasion.

Later, PM Nawaz along with COAS arrived at Masjid-e-Nabawi in Madina where he prayed for the development and integrity of the country.

Earlier, Saudi Arabia increased financial assistance to Pakistan and signed an agreement of $122 million in economic aid, the highest amount Riyadh has officially given to Islamabad in the last five years.

Saudis to give Pakistan $122m in aid

The signing ceremony for the grant, which includes a $67 million package, took place the day PM Nawaz and General Raheel were attending the closing ceremony of the multi-nation 'Thunder of the North' military exercise in Saudi Arabia.