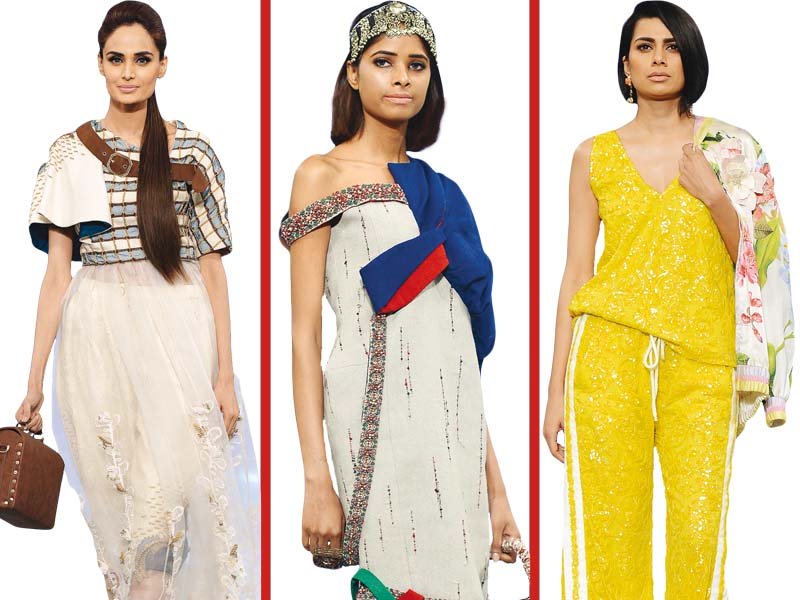 ---
LAHORE:


From the red carpet to the ramp, day one at the Pakistan Fashion Design Council Sunsilk Fashion Week (PSFW) boasted a big and memorable start to the event. PFDC has visibly upped the game by executing a well-managed opening of the fashion extravaganza. As for what we witnessed on the runway, it oscillated between two extremes, the uplifting and the mundane. The common denominator among Muse, Sana Safinaz and Rising Talent designer Hira Ali's ensembles was their gravitation towards sports luxe. Casual dressing has picked up in recent times with the whole "we are just so busy, we need clothes that work for all our activities" philosophy. These clothes are meant to be functional without compromising on style. While this athleisure trend carried the day for some, it wasn't the case with others. Here's a rundown of who showed what on the fashion aisle.


Muse by Faryal Aftab


Collection name: #LastNight

It seems the athleisure trend seeped into Aftab's sketchbook while she was designing '#LastNight', with her embellished sweatshirts, track pants and sporty dresses on point on the ramp. Aftab's Parisian predispositions emerged stronger with the brand's signature luxurious and chic aesthetic on full display in a series of designs, ranging from flared pants and peplum tops to signature belted overs paired with skirts. The designs exuded a stark simplicity of the colour palette with beige, black, gold, silver and a hint of blue, typical of the design house. The colours lent the ensembles restrained elegance, enriched with a playful drama of embellishments. The collection also featured menswear pieces in order to exhibit its unisex appeal. However, the jacket worn by Hasnain Lehri could suffice for womenswear.

Feeha Jamshed




Collection name: Bob Squad

The Pakistani fashion rock star put together a collection that cajoled us into forgiving her for her fashion week sabbatical. With the 'Bob Squad' showcase, Jamshed had all models walk out in uniform bobs, eschewing the traditional long-hair looks. A fluid and fancy collection, mainly print-centric, it was inspired by the 60s and 70s. Offering a mix of silhouettes, the line featured long dresses, fishnet tops, lined flared pants, long jackets and jumpsuits; all tracing a line down the ramp. Since Jamshed had layered up different pieces for her showcase, each piece stood on its own and can be worn as a statement separate. We Will Rock You may have been the soundtrack for the showcase but the display was all Jamshed's on Day 1. It was  easily our favourite collection of the night.

Sana Safinaz




Collection name: Sugar Rush

Save for a smattering of wispy net maxis and pants, along with oversized platforms, it was all about luxe sportswear with Sana Safinaz. There were floral prints on a mainly white backdrop, with bomber jackets, net flares and appliqued organza shift dresses. Our favourite was the side striped pants worn by Fia that are hitting ramps everywhere due to an influx of grown-up athleisure-inspired attire — something that was included in Chloe's Spring/Summer 2016 catwalk. There's something enticing about the idea of sportswear meant for no organised activity whatsoever. Overall, it was not their best collection. It had some hits and misses but will translate well into retail once it hits the stores.

Stage set for PFDC fashion week

Maria B




Collection name: Moonlit Sahara

Maria B showcased a collection with a colour palette comprising of different tones of grey, except for her show-stopping number which was a black and white ensemble worn by Mehreen Syed. The showcase turned out to be a letdown, especially after the on-trend collections it shadowed. To see an industry veteran not only play it safe, but also not come out with a single original look is rather disappointing. Maria had Maya Ali as her showstopper but inevitably, the collection failed to strike a chord and left us wanting much more in terms of aesthetic value.

Sublime by Sara Shahid




Collection name: Exhale

'Exhale' was easy on the eyes, possibly like the designer meant it to be. Inspired by a striking soft palette of pastels, the capsule collection she put out ranged from blush pink and pastel blue to teal. Models sported flowy jersey dresses, flares and skirts, among other fluid silhouettes. The standout number was worn by Amna Babar and featured a pastel pink draped top and a wrap skirt. The collection is expected to do well in the scorching months of summer up ahead.

Rising Talent

Ghulam Dastgir




Collection name: Ettal Abbey and Bavarian Peasants

Dastgir's collection utilised various patterns, ranging from simplistic designs to asymmetrical cuts, which he experimented with 3D flowers and techniques such as cutwork, blanket stitch, patchwork and braiding. Dastgir had also created leather bags for the showcase.

Pakistani designers impress at London Fashion Week

Unza Khalid




Collection name: Melody Lay to Muddy Death

Khalid used an ethereal palette of mossy green, deep rose, aqua green and mustard in her collection. Her designs featured intricate details such as French knotting, but we wish she had played around with varying hemlines and  surface texture.

Hira Ali




Collection name: Curiouser & Curiouser

Ali's 'Curiouser & Curiouser' also had the sports luxe flavour with a gorgeous colour palette, comprising chalk white and ivory, with cobalt blue as the collection's statement colour. The creations were done in cotton, organza and a variety of net fabrics. The pieces  stood out largely because of the colour palette used.

Pakistani fashion designer Zaheer Abbas to showcase at London Fashion Week

Saiqa Raheem




Collection name: Yurt's Manifestation

With an unusual inspiration like 'Yurt's Manifestation', Raheem showcased the most interesting collection from the Rising Talent section. She had created strong powerful silhouettes that incorporated layering and pieced them together with belts. The unique fusion of grey and green hues corresponded well together.

Published in The Express Tribune, March 12th, 2016.

Like Life & Style on Facebook, follow @ETLifeandStyle on Twitter for the latest in fashion, gossip and entertainment.