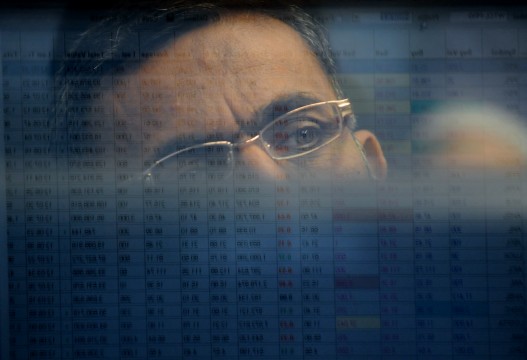 ---
KARACHI: Stocks fell in dull trading on Monday and dealers said investors were likely to be cautious until there is clarity on the fifth tranche from the International Monetary Fund (IMF) or until the budget is announced.

The Karachi Stock Exchange's benchmark 100-share index ended 0.37 per cent, or 38.66 points, lower at 10,389.46. "Today's volume at the KSE was the lowest in 2010," said Mohammed Sohail, chief executive of Topline Securities Ltd. Net foreign portfolio outflow of $710,949 on Friday also prompted selling by local investors, dealers said. Dealers said investors were cautious as they were waiting for the approval of the fifth tranche from the IMF.

The IMF board will likely meet in mid-May to consider the next tranche of Pakistan's $11.3 billion loan, a source close to talks between IMF officials and the government said last month. The board had originally been scheduled to meet on March 31 to approve the next portion of the emergency package, which was first agreed in November 2008 to avert a balance of payments crisis and shore up reserves. However, differences over several issues, including an increase in power tariffs and implementation of a valueadded tax, have delayed approval of the tranche.

The budget for the fiscal year beginning on July 1 is due to be announced in late May or early June. Trade volume stood at 67 million shares on Monday, compared with 96.88 million shares traded on Friday. Second-tier stocks stood as volume leaders while some activity in the oil, cement and banking sectors was also witnessed and as a result the total exchange value stood at a disappointing Rs2.76 billion.

During the day's trade, 134 stocks closed higher, 261 stocks declined and 12 stocks remained unchanged in value. SilkBank (KSE: SILK) was the volume leader with 4.49 million shares gaining Rs0.11 to close at Rs3.45. Lotte Pakistan (KSE: LOTPTA) came second with 3.92 million shares losing Rs0.25 to close at Rs10.93. National Bank of Pakistan (KSE: NBP) finished third with 2.96 million shares gaining Rs1.48 to close at Rs 74.8.

Pakistan State Oil (KSE: PSO) expressed interest in increasing its stake in Pakistan Refinery (KSE: PRL) to over 51 per cent to ensure guaranteed domestic supplies of petroleum products, said Faiza Naz, an analyst at JS Global Capital. PSO's stock registered a 0.24 per cent increase closing at Rs314.12. There were some interesting developments in the telecom sector as the chief of Etisalat, the largest telecommunications company in the UAE, stated that the company 'wishes' to acquire another 26 per cent stake in PTCL.

PTCL's share price closed in the red, Rs0.04 lower at Rs21.5. Gharibwal Cement (KSE: GWLC) was Monday's KSE- 100 top gainer of the day, its share price rising 5.76 per cent to close at Rs11.75. Royal Bank of Scotland (KSE: RBS) was in the losers list dropping 5.66 per cen to Rs14.5. Jahangir Siddiqui Company (KSE: JSCL) closed in the red, its share price shedding 5.64 per cent to close at Rs16.74.