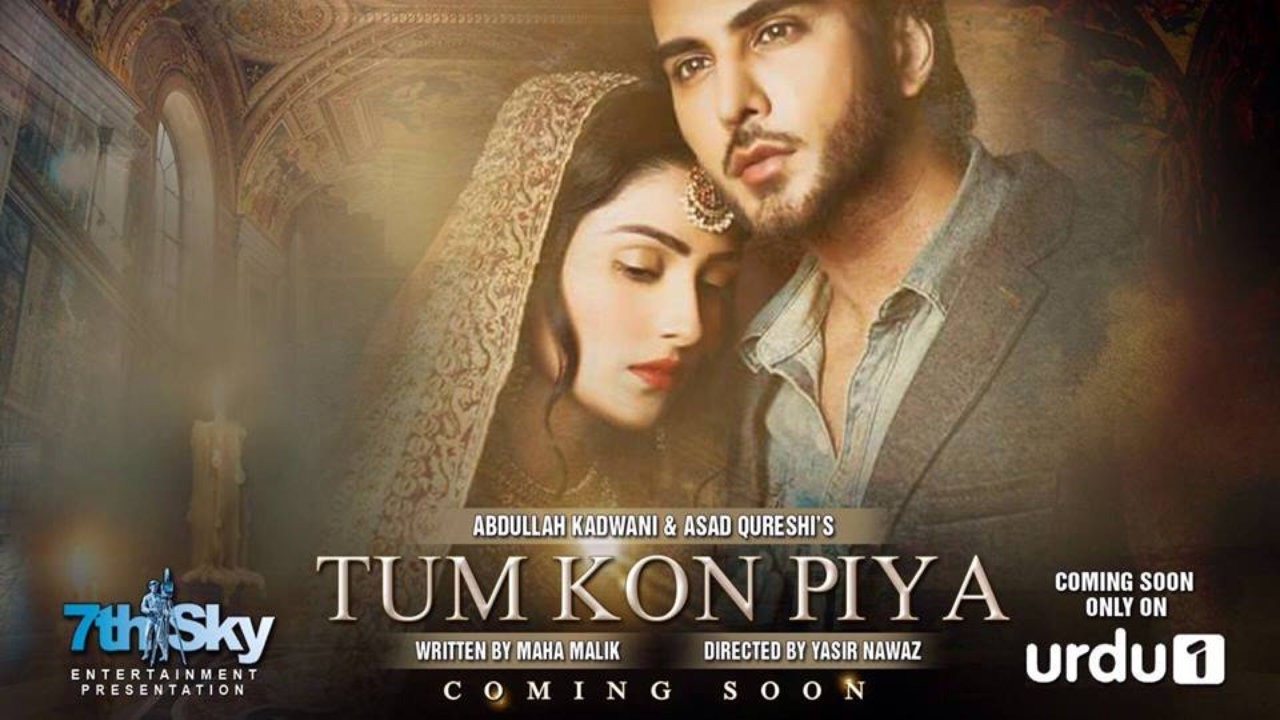 ---
Pakistani dramas have become supremely popular, across the globe, over the past few years. This international exchange of art has been appreciated by both Indian and Pakistani celebrities too. With dramas like Humsafar, Pyare Afzal, Zindagi Gulzar Hai, Mere Dard Ko Jo Zuban Miley, Diyar-e-Dil, Aasmaano pe likha, Jackson Heights and most recently Mann Mayal, the Pakistani drama industry is on an all-time high.

One such drama, airing on Pakistani channel Urdu 1, is set to hit the screen this month. The channel, famous for having broadcasted many Turkish and Indian dramas along with Pakistani dramas, gave us a local hit by the name of Jackson Heights in September 2014. This year, actor/director Yasir Nawaz, who also directed Wrong No. last year, will be carrying the mantel forward for Urdu 1 in his newest endeavour, Tum Kon Piya. The serial has been co-produced by Abdullah Kadwani and Asad Qureshi of 7th Sky Entertainment.

Kadwani, at the launch of the promos, said that,

"It has been a long time since we have been planning for an association with Urdu 1 and there couldn't be a better option than to begin our relationship with the channel through Tum Kon Piya which has a stellar cast, wonderful script and great direction,"

Urdu 1 channel representative and GM programming, Nina Kashif, said, 

"We are equally excited about the airing of this drama serial which has already created a stir with its amazing cast and storyline, and we hope that it would be another addition to the success stories of our channel."

https://www.instagram.com/p/BCP6t24GQgT/?taken-by=urdu1tv

Tum Kon Piya is an adaptation of Urdu novel Tum Kon Piya by best-selling Urdu novelist Maha Malik. Malik has previously been lauded for her depiction of women in society. She is famous for her crafty wordsmanship, especially in light of the different phases in women's lives and the plethora of roles they play. This drama is no different. With a storyline close to every Pakistani girl's heart, the drama revolves around a father-daughter relationship and how a daughter sacrifices her love for her father's dignity.

[/fbvideo]

The start-studded cast includes Imran Abbas and Ayeza Khan, in the lead, along with Qavi Khan, Hina Bayat, Mehmood Akhtar, Azra Muhiuddin, Ali Abbas, Hira Tareen, Shameen Khan, Faria Sheikh and Yasir Shoro.




After winning hearts in Bollywood, Imran Abbas is all set to make his comeback with Tum Kon Piya. Imran plays the role of a loyal man who sticks around the love of his life and does everything for her family, despite being prohibited from marrying her. When asked about his character, Ramish, in Tum Kon Piya, this is what Imran Abbas had to say about playing the role of, loyal boy-in-love,

[/fbvideo]

Another fun fact is that, Lux Style Awards (LSA) winner, Ayeza Khan is also making her comeback with this drama serial. Ayeza Khan, after getting married and giving birth to a little baby girl, will be making her comeback with Tum Kon Piya, after an absenteeism of two years from the media fraternity. Ayeza plays the role of an obedient daughter who does not want to go against her father's wishes. Here is what Ayeza had to say about her character, obedient girl-next-door, Ilma,

[/fbvideo]

As we know, there is absolutely no story worth watching if it isn't complemented by the right music and Tum Kon Piya reached for the stars, literally. In a heart-warming soundtrack, sung by none other than the legendary Rahat Fateh Ali Khan, the song will have you looking forward to the drama every time it airs. The song has been composed by Sahir Ali Bagga and the lyrics have been written by Sk Khalish.


With a promising storyline, enviable cast and great music, Tum Kon Piya will definitely be a drama to count on this 2016. Tum Kon Piya is set to hit television screens at the end of March 2016. Here is a sneak-peek:


COMMENTS
Comments are moderated and generally will be posted if they are on-topic and not abusive.
For more information, please see our Comments FAQ