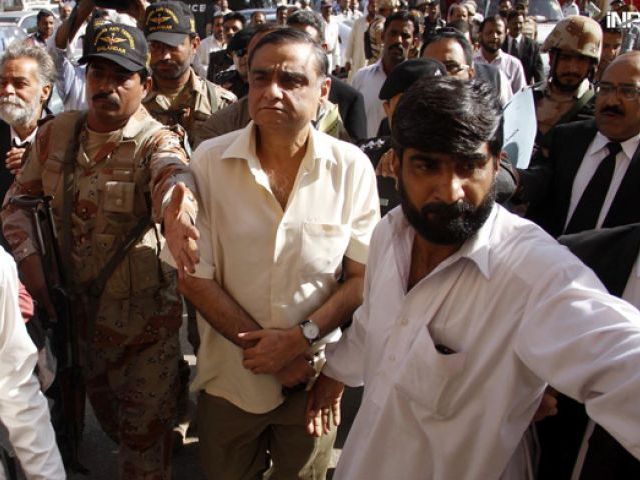 ---
KARACHI: An anti-terrorism court (ATC) in Karachi issued on Saturday, non-bailable arrest warrants for three absconders including Anis Qaimkhani in the Dr Asim Hussain case.

In its proceedings on Saturday, the ATC directed police to arrest Qaimkhani along-with another Muttahida Qaumi Movement leader Saleem Shehzad and Pakistan Peoples Party leader Qadir Patel and produce them in court on March 22.

Qaimkhani however, denied he had ever called Dr Asim, while speaking to Express News. He did however admit that he met with the former petroleum minister on different occasions.

Further, Qaimkhani has said he will fulfill all legal requirements against the charges leveled against him in the case.

The ATC in December last year declared the aforementioned political leaders as absconders in the case pertaining to corruption and terrorism charges.

Pasban-e-Pakistan leader arrested in Dr Asim terror facilitation case

On January 8, police arrested another accused in the case, general secretary Pasban-e-Pakistan Usman Moazzam on the same charges.

Reference filed in accountability court

Meanwhile, National Accountability Bureau (NAB) filed a reference in an accountability court against Dr Asim and eight others, stating that the accused were involved in corruption of over Rs17billion and misuse of authority.

According to the authority, the persons involved gave undue advantage to a specific company by illegally issuing to them tenders of five gas wells.

According to the investigation officer, Dr Asim, Shoaib Warsi and Zuhair Siddiqui, mentioned in the reference, were under custody while the remaining accused will be arrested soon.

ATC issues non-bailable arrest warrants for absconders in Dr Asim Hussain case

NAB also included names of Iqbal Z Ahmad, Zahid Bakhtiar, Azeem Ibal Siddiqui, Khalid Rehman, Malik Usman and Yousuf Laghari in the 12-page reference.

Dr Asim, former petroleum minister, chairman of Sindh Higher Education Commission and a confidante of former president Asif Ali Zardari, is facing charges of abetting and harbouring terrorists at his family-owned hospitals in Karachi.

After spending 90 days in the custody of paramilitary Rangers, who detained him on August 26, he was handed over to the Karachi police for further interrogation.
COMMENTS (1)
Comments are moderated and generally will be posted if they are on-topic and not abusive.
For more information, please see our Comments FAQ