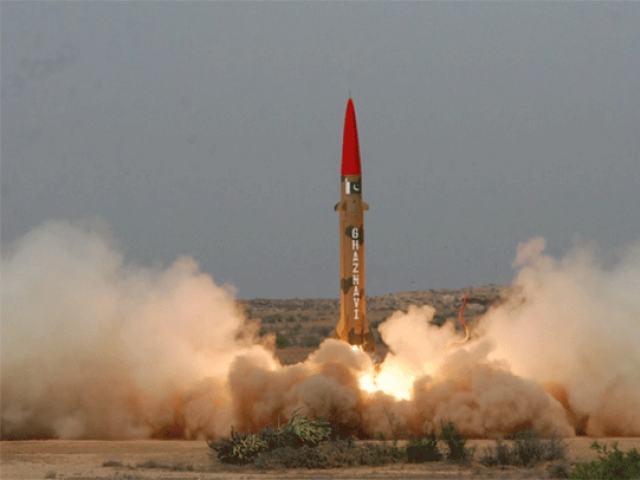 ---
ISLAMABAD:



"We will not roll back our nuclear programme even if our debts swell to $100 trillion," says Finance Minister Ishaq Dar dismissing outright Western media reports that suggest Islamabad could barter its nuclear arsenal for dollars.




"We did not start this [nuclear] programme to roll it back," Dar told lawmakers in the upper house of parliament on Wednesday. "This is a programme of our security, and it is a national responsibility to protect it," he added. "All political parties of Pakistan share the ownership of our nuclear programme."

US expresses concern over security of Pakistan's nuclear stockpile

The finance minister was briefing the house on the country's economy. And at the end of his policy statement, he referred to a 2008 article in Wall Street Journal headlined 'Let's Buy Pakistan's Nukes' in which the author asked Western donors to agree on a $100 billion economic package in exchange for eliminating Pakistan's nuclear stockpile.

"This will never happen," Dar said emphatically. He mentioned another article which suggested the ever-ballooning debt may lead Pakistan to compromise on its national security assets. "Even if our debts swell to $100 billion or $100 trillion, we will not roll back our nuclear programme."

Dar's forceful statement came after US Secretary of State John Kerry pressed Pakistan at this week's strategic dialogue to reduce its growing nuclear arsenal. Dar did not mention Kerry's statement but Senate Chairman Raza Rabbani asked Adviser to Prime Minister on Foreign Affairs to brief the house on this issue along with others.

Aziz would brief the house next Tuesday but Foreign Office has already issued a statement in which Aziz has "impressed upon the United States not to contribute to strategic imbalance in South Asia by helping India. He emphasised that the convergences in the relationship outweigh the irritants."

On the demand of leader of the opposition Aitzaz Ahsan, the chair asked Aziz to brief the house on his Tuesday's statement in which he said "Pakistan has some influence over the Afghan Taliban since their leadership lives here".  Ahsan also sought a briefing on Indian Defence Minister Manohar Parrikar's allegation that the non-state actors who carried out the Pathankot airbase assault had support of the state of Pakistan.

Pakistan's nuclear arsenal could become world's third-biggest: report

Earlier, the finance minister painted a rosy picture of national economy in a detailed presentation full of stats and comparison with the past. "A turnaround [of economy] has taken place today, and our next target is growth," Dar said while inviting the opposition to join hands with the government to further improve the economy.

However, Dar's hour-long speech failed to earn him appreciation from opposition lawmakers who remained skeptical about the numbers cited by the minister.

The opposition leader was poetic in his criticism as he read a few couplets of Mirza Ghalib mocking Dar's opinion that borrowing money would one day result in an economic turnaround. He requested the chair provide copies of Dar's speech to lawmakers so that they could cross-check the figure before a house debate.

PTI Senator Nauman Wazair said he wouldn't use 'fudging' for Dar's numbers but would call it 'window dressing'. Other senators pitched in, with MQM's Barrister Saif saying sarcastically: "We're very happy to know that our economy is robust. We have no debt to pay – and all is well."

Resolution on wining Oscar

In other business, the Senate unanimously passed a resolution paying tributes to Sharmeen Obaid Chinoy for winning a second Oscar.

Published in The Express Tribune, March 3rd, 2016.
COMMENTS (36)
Comments are moderated and generally will be posted if they are on-topic and not abusive.
For more information, please see our Comments FAQ