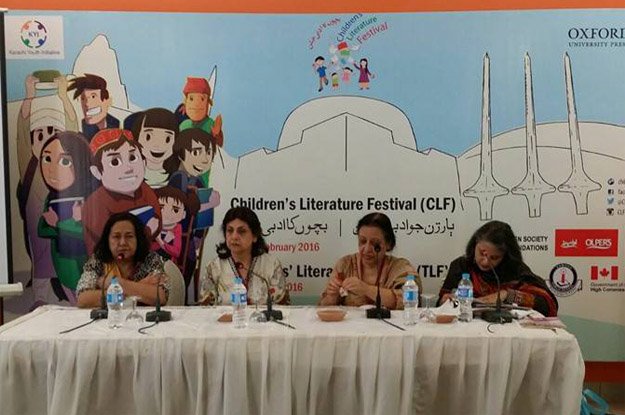 ---
KARACHI:



The best way to save our heritage would be to keep it alive through art, music and literature.




Take the example of countries, such as France and Britain. They never forget their heritage because they have preserved it in their literature for children, said journalist Khursheed Hyder. She was moderating a session on 'Bringing our Precious Heritage to our Children' on Friday, the first day of the fourth Children's Literature Festival.

Our heritage is our identity and music, she said. Literature and arts are also a part of our heritage, which we have forgotten with the passage of time, she added.

It is unfortunate that our children do not know our heritage but Oxford University Press (OUP) is working to get history and literature published in the easiest way for them to understand, pointed out OUP managing director, Ameena Saiyid.

"We should leave a greater impact of our heritage on children's minds so that they can remember it throughout their lives," she said. Simplified versions of history and heritage are needed to make things better for students, she said, adding that students are far away from reality and have been taught distorted and incomplete history.

"The drawback we have is the variety of languages," said poet Sarwat Mohiuddin. "Our heritage and history is in different languages [Persian, Urdu, etc] but we read in others [English]."

Mohiuddin added that our heritage is not language but our values, knowledge and tradition are. Buildings are not our heritage, she stressed before adding that there is a need to translate books in different languages to explain to the younger generation about our history.

Poet Fahmida Riaz pointed out the importance of Persian for Muslims, Hindus and even Sikhs. "After 1947, there is an artificial divide in languages," she said. "Before partition, everyone used to know how to read and write at least three languages, which included Persian."

Riaz felt the problem lies with children being ignored. That is why they are far away from literature and reading good quality books, she said.

Published in The Express Tribune, February 27th, 2016.