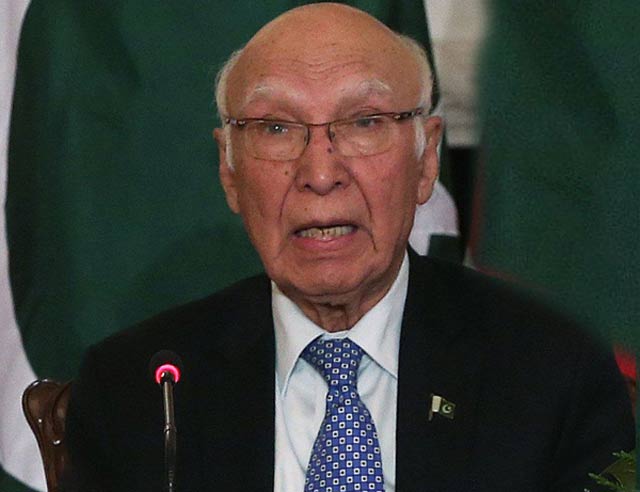 ---
ISLAMABAD:



Pakistani troops are participating in a massive military drill of a 34-nation coalition of Muslim militaries in Saudi Arabia – but interestingly the country doesn't know exactly what role it is supposed to play in the coalition cobbled together by Riyadh to fight terrorism and extremism.




Six-point objectives of the coalition were shared with us a week ago, but nothing has been said on Pakistan's supposed role, Sartaj Aziz, the prime minister's adviser on foreign affairs, told lawmakers in the National Assembly in a written reply on Wednesday.

Pakistan agrees to take part in Saudi-led drill

MNA Fouzia Hameed asked the government on Tuesday to clarify the objectives of the Saudi-led coalition, including Pakistan's expected role in it. Aziz said Pakistan welcomed the December 14, 2015 announcement by the Saudi press agency about the formation of the coalition.

The coalition's objectives include coordination of military efforts in fighting terrorism; synchronise efforts to combat terrorism intellectually with media's support; fighting supporters and financers of terrorism, including sharing data on terrorist groups;  convening meetings and conferences to study the phenomenon and to give recommendations on how to fight terrorism.




"A meeting will be held soon to devise a mechanism for what role we can play and how," Aziz added. "A meeting of foreign minister and defence officials was first scheduled for February but could not take place."

Pashtoonkhwa Milli Awami Party chief Mehmood Khan Achakzai asked why Syria, Iraq and Iran have been left out in the coalition. "Do they have a different definition of terrorism or there are some other reasons for leaving out these important Muslim countries?" Aziz said since the coalition was still embryonic, details have yet to emerge.

Saudi-led coalition: Pakistan won't support moves against Syria or Iran, say officials

Here MNA Arif Alvi interjected: How long it will take for ambiguity to clear? His party colleague Shireen Mazari chipped in saying if the situation was not clear why Pakistani troops were taking part in the military drill in Saudi Arabia?

Aziz said military cooperation between Pakistan and Saudi Arabia was nearly four decades' old, and around 1,000 Pakistani military officials were always present in the kingdom. "We have not sent additional troops to Saudi Arabia," he added. Aziz remained cautious in his replies to other questions on the subject.

In his written response, the prime minister's aide stated that each country in the coalition would decide the specific activities it could participate in. "Pakistan is still awaiting details and technical consultation after which it will decide the extent of its participation."

Decline in exports

Earlier, Commerce Minister Khurram Dastgir admitted before the house that Pakistan's exports have been witnessing a decline since last fiscal. According to the figures he shared, in 2014 trade in goods was Rs25.11 billion which came down to Rs23.8 billion in 2015.

Pakistan's stakes in Saudi-sponsored coalition

He cited internal and external factors for the negative growth. Pakistan's exports to China and the United Arab Emirates have witnessed a decline of 13.71% and 24.5% respectively in 2015, he said. China has abandoned its policy to store cotton yarn that made up a major chunk of Pakistan's exports. Similarly, exports to the UAE declined due to a decrease in exports of petroleum products, chemical, jewelry and rice.


Published in The Express Tribune, February 18th, 2016.