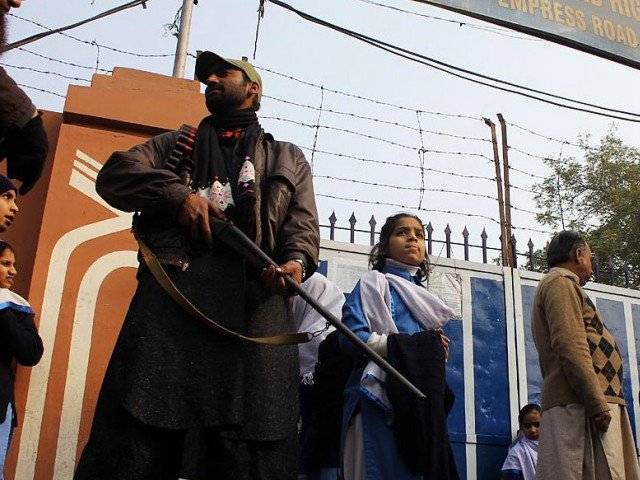 ---
RAWALPINDI:



Many government schools in Rawalpindi which have been deemed to be sensitive have been scrambling for funds to purchase semiautomatic machine guns (SMGs) for their security guards.




The district education department has asked the government schools to arrange funds from their own means to buy the guns, a source in the education department said.

At a meeting chaired by District Officer Secondary Schools Shahzia Bibi on Saturday, education department officials handed over appointment letters of several security guards to heads of the sensitive schools.

The source said that retired army men have been hired, and that they will be deployed on the roofs of sensitive school buildings.

The source said that in the meeting it was conveyed to the heads of the sensitive schools that they would have to arrange funds from their own means to purchase guns for the newly hired security guards.

The heads of all sensitive schools have already deposited Rs7, 000 in the office of the district coordination officer to obtain arm licences.

The district government has clinched a deal with authorities of Pakistan Ordinance Factory in Wah to purchase SMGs for security guards.

Punjab Teachers' Union Rawalpindi chapter President Imtiaz Abbasi said it would be difficult for a school head to collect funds to purchase a gun that costs Rs110, 000. He said that school heads have been asked to deduct the sum from the Farookh-e-Taleem fund, which is collected from students.

Abbasi said the fund is normally used for the welfare of the students and to meet minor expenditure of schools. He said that fund was also being used to purchase uniforms for needy and deserving students.

He noted that there were several schools which did not have enough funds to purchase the guns. He said that the education authorities have failed to sort out the funds shortage issue except for forcing head teachers to deduct money from the Farookh-e-Taleem fund.

While talking about the newly hired security guards, Abbasi said that the district government has hired the guards instead of the schools heads, who are the ones with legal authority to hire them.

Education Executive District Officer Qazi Zahoorul Haq confirmed that they issued the appointment letters of the security guards.

While talking about the guns, the EDO claimed that the district government would later reimburse the schools after they purchased guns from their own resources.

He said that earlier schools utilised their funds for purchasing CCTV cameras, metal detectors and construction of boundary walls and the district government later reimbursed the sum.

When reminded that if the school heads were not authorised to purchase guns, Haq said that they will take this up with the district government. He said that they would ensure that all sensitive schools get SMGs.

Published in The Express Tribune, February 14th, 2016.
COMMENTS
Comments are moderated and generally will be posted if they are on-topic and not abusive.
For more information, please see our Comments FAQ