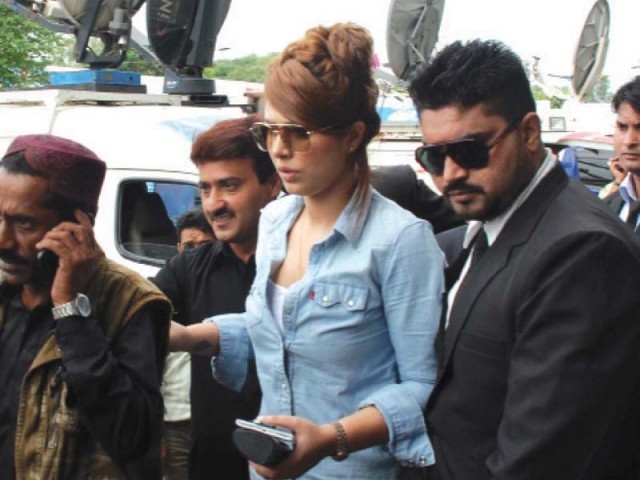 ---
ISLAMABAD: Things do not seem to ease out for supermodel Ayyan Ali. In the latest episode, a man has approached a district court accusing her of depriving him of Rs6 million after she allegedly failed to organise a musical concert, while promising lead performance by none other than the Romanian DJ and record producer, Edward Maya.

The petitioner, Usman Gohar, reached the district and sessions court on Monday seeking court's directions for the capital police to register a case against the model for not fulfilling an agreement and causing financial loss.

8 things you need to know about supermodel Ayyan

Gohar filed the petition under section 22-A of the Criminal Procedure Code alleging therein that Ayyan and her brother, Zulfiqar Ali, received Rs6 million from him for organising the concert in the capital in October last year but failed to fulfil her promise after receiving the amount.

He said that Ayyan and her brother were now refusing to return the same despite repeated attempts. Gohar has made Islamabad Senior Superintendent of Police, Kohsar station house officer, Ayyan and her brother respondents in the matter.

Time and again, Gohar stated, the petitioner asked Ayyan to return money but she not only refused the same but also "delivered threats of dire consequences to cause death or grievous hurt."

"[She] dishonestly embezzled petitioner's money and caused huge financial loss," he stated, adding that she intentionally deceived him.

Gohar claimed that he had the agreement of the concert bearing signature of Ayyan and witnesses, adding that he also had video and other documents to prove his case.

He alleged that Ayyan was involved in different cases regarding money laundering and cheating, which clearly showed that the respondents had mala fide intention and loots innocent people, like the petitioner.

In the petition, Gohar also alleged that the respondents were very influential people and Kohsar SHO was not ready to take action against them though he was duty-bound to register a criminal case against the two accused.

He prayed before the court to direct the police officials to register a case against Ayyan and her brother.

On March 14, 2015, Ayyan was arrested, while trying to travel abroad with foreign currency amounting $506,800 from the Benazir Bhutto International Airport.

Explainer: Why supermodel Ayyan was arrested

Earlier, a customs court had indicted Ayyan in the money-laundering case, which was previously deferred a number of times.

The model had pleaded not guilty to the charges of money laundering.

Published in The Express Tribune, February 9th, 2016.