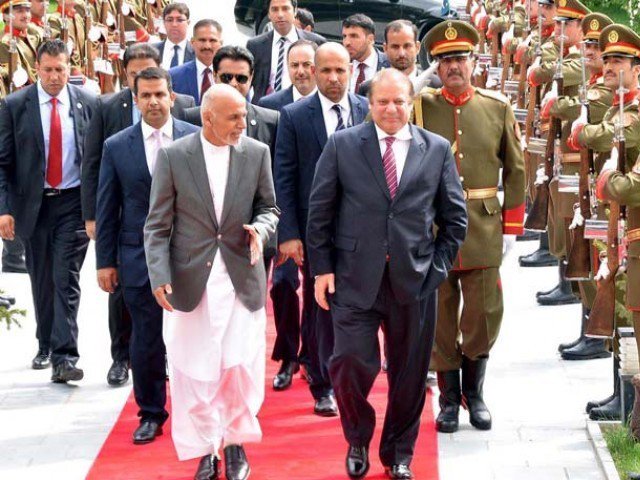 ---
ISLAMABAD:



Pakistan and Afghanistan are likely to discuss the revival of an agreement between their top spy agencies in a latest move by the two neighbours to reset their relationship bedeviled by trust deficit and sporadic blame games, The Express Tribune learnt on Sunday.




According to official and diplomatic sources, the issue came up for discussion during a recent meeting between Lt-Gen Rizwan Akhtar, the director general of the Inter-Services Intelligence (ISI), and Masud Andrabi, the director of Afghanistan's National Directorate of Security (NDS).

Afghan spy chief arrives today on trust mending mission

Andrabi travelled to Islamabad quietly last week in a rare visit to explore the possibility of intelligence and security cooperation with the ISI. Both sides, however, refused to acknowledge the meeting of their intelligence chiefs.

In May last year, the ISI and NDS had signed a memorandum of understanding on intelligence sharing and coordinated operations against militants. However, the agreement could not take effect as certain Afghan politicians, including former president Hamid Karzai, vehemently opposed the move.

Then NDS chief Rahmatullah Nabil, who had also served under Karzai, was strongly opposed to the proposed agreement with the ISI. He had even refused to sign the MoU and subsequently a deputy director had signed it on behalf of the NDS. Nabil, who was reappointed as NDS director in January 2015, resigned a few months later over differences with President Ashraf Ghani vis-à-vis his Pakistan policy.

Faced with immense pressure at home, the NDS had backtracked on the MoU claiming it was not practical and needed to be reviewed.

Blunders of Afghan intelligence

The Ghani administration after months of acrimony had agreed to mend ties with Pakistan during his visit to Islamabad in December for the Heart of Asia ministerial meeting. His visit subsequently led to a series of steps, including revival of Afghan peace talks as well as greater interaction between the military and intelligence officials of Pakistan and Afghanistan.

A source with knowledge of these developments told The Express Tribune that both neighbours have realised that close 'coordination and cooperation' between the security establishments of the two countries was essential to defeating terrorism.

He said the recent high-level exchanges, including visits by senior military and intelligence officials, were part of efforts by the two sides to work closely with each other.

The two neighbors have also set up a hotline between their operational commanders to ensure better coordination. The directors general military operations of the two countries recently undertook reciprocal visits.

Sources said these measures were part of efforts seeking better border management to deal with the 'common security challenges'. However, sources added that intelligence sharing and coordination between the two spy agencies was paramount to tackle the militant groups creating trouble on both sides of the border.

Afghan spy chief resigns over Ghani's remarks in Pakistan

"That is why there is a renewed push for striking a deal between the two intelligence agencies," one source maintained. However, it is not clear whether the deal is in the offing in the near future given the trust deficit between the two intelligence agencies.

Published in The Express Tribune, February 8th,  2016.
COMMENTS (4)
Comments are moderated and generally will be posted if they are on-topic and not abusive.
For more information, please see our Comments FAQ