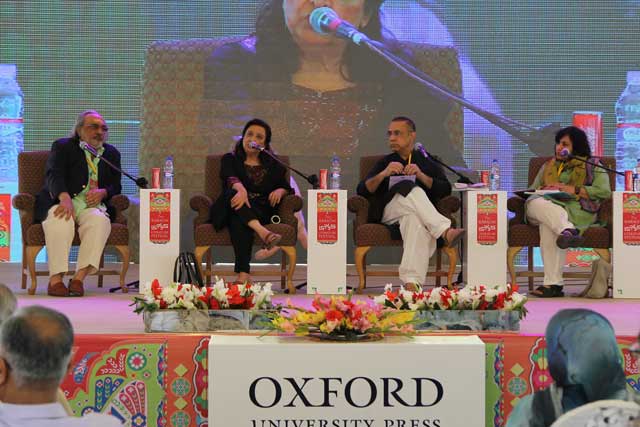 ---
KARACHI:



Sufi mystic Jalaluddin Rumi draws upon seemingly mundane imagery to capture the nuances of spirituality and universal truth. This was the gist of the discussions on the Sufi poet's work on the second day of the 7th Karachi Literature Festival on Saturday. The session was titled 'Rumi: Mystic and Poet'.




Scholar Nomanul Haq said that Rumi's poems transport readers into a realm of philosophical thought by focusing on routine concerns. "Through his rhythm, imagery and conversation style, he explores larger truths," he said. "Rumi's poems are direct and surpass cultural barriers."

Poet Fahmida Riaz drew attention to how Rumi's work makes a voyage between two worlds by focusing on emotion and rationality. "The poet's works mark a turning point in Sufi tradition," she said. "It deals with the mystery of the human existence by connecting personal emotions with the cosmos." Riaz explained that Rumi's poetry bears a powerful musical quality. "When I began translating his work, Diwan-e-Shams-e-Tabrizi, into Urdu, I found it difficult to stifle the urge to sing his verses out loud," she said.

Know no borders: Musicians aim to counter extremism through Sufi music

Sindhi poet Amar Sindhu said that Rumi has influenced a large number of Sufi poets, including Shah Abdul Latif Bhittai. "We can't underestimate his influence on Sufi tradition and poetry," she said. "Through his work, Rumi transformed the ordinary into the divine and has provided inspiration for countless poets. In fact, poets who are heavily influenced by Marxism have also been inspired by Rumi."

Bari Mian, another scholar, explained the concept of ishq — surrender to a beloved and ultimately God - that is inherent in the Sufi poet's work. "He doesn't explore this theme through complex imagery," explained Mian. "Instead, Rumi draws upon ordinary elements of life to build on this concept of ishq." According to Mian, Rumi had the rare ability to spin gold out of the straw of ordinary life. "The Sufi poet did not achieve this through practice," he said. "I strongly believe that whatever he wrote came purely from the heart."

Published in The Express Tribune, February 7th, 2016.