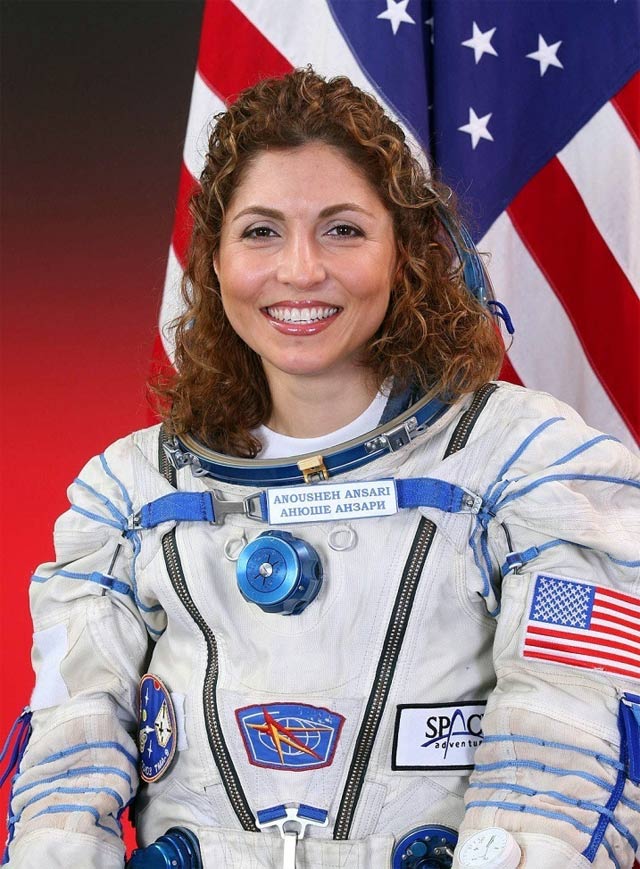 ---
If you ask me what my greatest dream is, I'll probably tell you it's going to space. It doesn't even have to be that far out – a round trip to the International Space Station and back will do (can you tell I'm thinking small here?). Since there's little chance of me doing that anytime soon, though, I could settle for shaking hands with someone who's already been there.

I guess I can cross that one off the ol' bucket list.

Anousheh Ansari is a computer scientist, an entrepreneur, and the first Muslim woman to go to space – not to mention the first woman to do so using her own funds. I caught up with her much closer to the ground, in Singapore, where she flew in to support the UN Women Singapore Committee for ending violence against women.

Obama recognises historic Muslim US Olympian

Stargazer

Going to space was Anousheh's life-long dream, along with becoming an astrophysicist. Growing up in her homeland, Iran, she would lie in her balcony and get lost in the night skies, dreaming she would one day be among the stars. "I was fascinated by the sheer mystery of space, what's out there, what's it like, and how I could get there," she says.

The stars looked pretty far away in 1984, five years after the Iranian revolution, when she and her family left the country for a better life in the United States. There she studied electrical engineering and computer science. After meeting her husband, Hamid Ansari, she went into the telecommunications business. Together, they founded telecommunications company Telecom Technologies in 1993.

To put that into context, 1993 was the year when Marc Andreessen and his team released Mosaic, the first web browser.

Telecom Technologies developed a method for enabling voice communications over the internet. In 2001, it merged with IP-based voice infrastructure products company Sonus Networks, in a US$750 million deal. It was the middle of the US dotcom crash.

Meet Pakistan's first female truck driver

The tech business landscape is a very different world today, but some things still apply. "When we started the company, the principles of a startup were innovation and speed, which is the same now in Silicon Valley," she says.

But she feels that back then building a business was much more of a long-term thing. "Sometimes I look at the companies that pop up every day in Silicon Valley and I question what the business model is, how they are going to ever make money, or protect their IP."

She is concerned about founders coming straight out of college and founding companies ("If Andreessen has his way, even before they've finished college," she quips). At that stage, they may not have the experience and the sense of responsibility she feels is required to run a successful company. "But it's a different landscape, it's hard for me to even try to compare," she says.




Per aspera ad astra

Space is never far away from Anousheh's thoughts. In 2006, she came close to fulfilling her lifetime dream, when she was asked to be a backup for private space explorer Daisuke Enomoto on a Soyuz TMA-9 flight to the ISS. She underwent the necessary six-month training in Russia's Star City, and when the time came, Daisuke was medically disqualified – opening the airlock for Anousheh to go in his place. She stayed aboard the ISS for eight days, conducting some experiments herself and even sending the first-ever blog post from the station.

Pakistan-born first Muslim female to enter Australian state parliament

"It's very liberating [going to space]," she says. "You become humbled by the fact that the universe is so big and you're such a small part of it. At the same time you are empowered by seeing how small everything is because then you're like, 'These are the things I'm worried about? They're nothing.' It helps you re-prioritise your life, your relationship with the world and the people around you, with your environment, and makes you realise what's important and what's not."

Her journey to our planet's farthest outpost was the culmination of a lifetime dream, but there is much more to it. "I'm 100 per cent a proponent of space exploration," she says. She has been involved with a lot of private sector initiatives in this regard, the foremost being a multi-million dollar donation to the X Prize, the non-profit organisation that runs competitions for innovations to benefit humanity.

In 2004, the organisation awarded the Ansari X Prize for Suborbital Spaceflight, in honor of that donation. The US$10 million award went to SpaceShipOne. Anousheh sits in the organisation's Board of Trustees, along with Elon Musk, James Cameron, Larry Page, Ratan Tata, and others.

Muslim gymnast criticised for 'revealing' costume as she wins double-gold

"The way we treat our planet, we're going to destroy our environment and make it uninhabitable, unless something changes drastically," she says. "If we want our species to survive, we need to figure out how to live in space. That's why I think the space program is very important, not just because of all the research turning out products and ideas that help people on earth. And it's not something we can do quickly, it will take many decades for us to figure out, so we need to start working on it now."

As a big supporter of private ventures into space, she is excited by what industry heavyweights such as Elon Musk and Jeff Bezos are doing in this regard. "This is what we wanted to see, a lot of competition and activity," she says. "Hundreds of thousands of jobs have been created because of this new industry. Having people like that work on the space program gives me a lot of excitement and hope, so I can't wait to see what's going to happen in the next five years."

Be the change

Anousheh's story is certainly an inspirational one, particularly for women who want to get into science, engineering, and computers. "You have to be persistent and patient," she says.

"I look at my life, and even though I've always thought about going to space, I had to consider other options and build a career in something completely different. But that doesn't mean that you'll forget what you want to do, even if you have to take a detour. I know women sometimes start believing they're not meant to do something, especially when there are cultural or family restrictions where they live, so they put that limitation on themselves. Even if the opportunity comes, they don't see it, they've forgotten about it. So it's important not to forget, to always be prepared."

The fact that even supposedly enlightened places such as Silicon Valley still have significant problems with diversity and women makes that even more important. "You would think the most forward-looking people are in Silicon Valley," Anousheh says. "When I talk about women's issues in the Middle East, I tell people that – women are exploited in the US as well, just in different ways."

First Arab Muslim woman to officiate at Wimbledon 2015

As the industry matures and develops, Anousheh hopes to return to space one day. "I will definitely fly with [Richard Branson's private commercial spaceflight company] Virgin Galactic when it's ready. If the opportunity comes, I'm not going to give up my seat!" she laughs.

New ventures

In 2006, she co-founded her latest company, Prodea Systems, where she is currently chairman and CEO. Prodea started out of a simple idea: to use technology to make every-day life easier, Anousheh tells me. That sounds more than a little vague, but keep in mind the world hadn't even seen the iPhone at that point.

Prodea is a platform that allows several different kinds of devices to talk to it, with the purpose of gathering data and providing useful results. "We sit in the core of someone's digital life and bring all the services together in one platform," Anousheh explains.

For example, she says, you can have a simple webcam and a health-tracking wearable – the camera sees you returning home at the end of the day, while your wearable transmits your health status. Prodea's platform can take all that information and provide suggestions, such as taking a rest, going for some exercise, or trying a particular meal.

Pakistani woman wins global humanitarian award

Prodea has integrated several major manufacturers' brands into its system, Anousheh says. The platform supports sensors, cameras, mobile devices, different operating systems, health devices, and more. "It's been a complicated, difficult problem to solve, but it's what we're good at," she explains. "We built it to be flexible and scalable."

Social impact

Prodea's system for the internet of things isn't just for creating smart homes. The company is currently involved in a program in rural India, in partnership with ChangeLabs, ILFS India and the state government of Rajasthan. The program is enabling people in the area to come online. "I go to rural Rajasthan, and there's a 4G network," Anousheh says. But people there don't always have the devices to access the internet – a lot of them don't even know what it is except for incarnations like Whatsapp and Facebook.

So Prodea wants to bring those people online. Seeing as most of them TVs, the company provides devices that turn them into two-way communication screens with internet access. The devices allow the user to view available services by just using the TV remote, which doesn't require much effort to get used to.

This helps people connect to services and information they were previously excluded from such as government benefits and advice about agriculture and entrepreneurship, Anousheh says.
COMMENTS (8)
Comments are moderated and generally will be posted if they are on-topic and not abusive.
For more information, please see our Comments FAQ