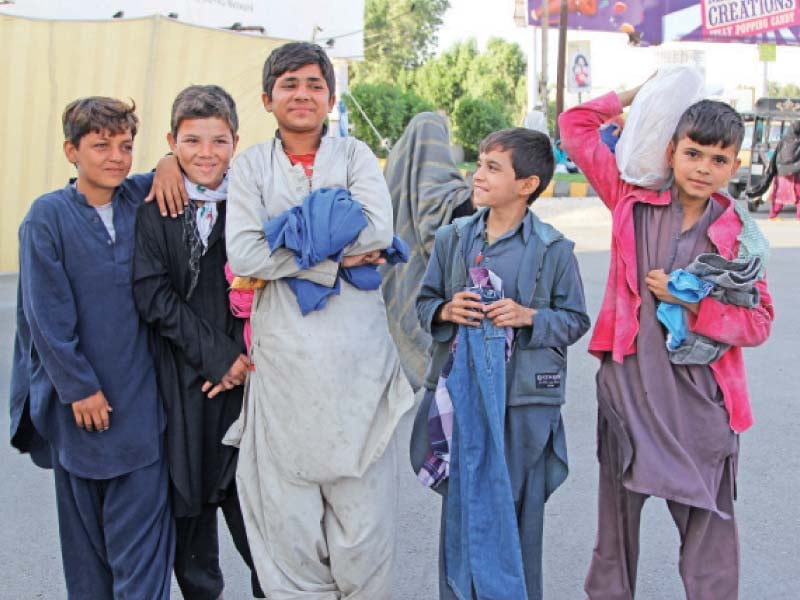 ---
KARACHI:



Inspired by the Wall of Kindness in Iran, Clifton residents replicated the idea on Saturday afternoon when they set up a stall at Sea View for people to donate clothes and food, and for the needy to take what they need.




Over a course of two weeks, a team of four friends and innumerable volunteers collected every-day essentials, ranging from ration and clothes to shoes and bags, and laid out stalls adjacent to Sea View McDonalds, offering the items to be picked up by the needy.

Have you visited the Wall of Kindness in Karachi?

A group of excited children ran about collecting their favourite items from the table. Clutching a blue t-shirt to his chest while simultaneously taking a mouthful from a packet of biryani with the other hand, Abdul Mannan said that he works at a nearby restaurant. "I was walking from Clifton Bridge when the men sitting underneath the bridge were talking about free giveaways here," he said. "I came running here and look what I've got." Other boys of the same age group gathered to show their collectibles.

Shahzeb, who cleans cars on roadsides, happily clutched jeans with small pink stars embossed on them, oblivious to the fact that it was for females. While children grabbed random items of clothing, the adults opted for ration items. Other than these, the items donated by people included clothes for both summers and winters, shoes and bags fit for all age groups.

2015 in the life of Karachi's street children

Responding to a question as to why this particular location was chosen for the first Wall of Kindness by this group, volunteer Sara Khan said that it involves people from the same neighbourhood. "Donations were carried out from neighbouring apartments and houses," she said. "You can see that the people who are here to collect stuff are also from this area only."

As the tables were laid and prepared, random passers-by could be seen stopping all of a sudden, joining the already large number of people gathered on the footpath. From Clifton parking personnel and labourers to maids and even a curious passer-by, everyone was asked to form a queue.

One of the team members explained that the idea is to offer charity to the people on the streets, mainly the homeless. "Trusts and NGOs are known to offer charity but what about these people on the streets?" said Dureshahwar. "It's more of an awareness campaign for people to pick up and set up similar walls in their neighbourhoods."

Zamung Kor: A home for street children inaugurated in Peshawar

Another team member, Fizza, said they plan to set up a similar Wall of Kindness every six months. "The plan is to space them every two to three months but we are aiming for six months for now," she said, adding that areas of Clifton and then Gulshan-e-Iqbal are their next targets.

Published in The Express Tribune, January 31st, 2016.