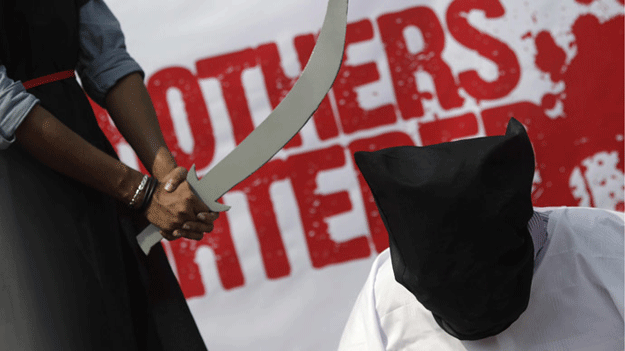 ---
RIYADH: Saudi Arabia on Thursday executed one of its citizens for murder, bringing to 55 the number of convicts put to death this year.

Authorities in the southwestern region of Aseer carried out the death sentence against Owaidhah al-Saadi, the interior ministry said in a statement.

Saudi executions reach 53 in single month

A court found him guilty of shooting dead another Saudi following a dispute, it said.

Most executions in Saudi Arabia are done by beheading with a sword.

The kingdom on January 2 executed 47 people in a single day for "terrorism".

According to an AFP tally, Saadi is among eight other locals and foreigners put to death this year.

New York-based Human Rights Watch on Wednesday urged the country to abolish its "ghastly" beheadings.

Saudi executes Pakistani heroin smuggler

"Saudi Arabia made positive changes for women and foreign workers in 2015, but these steps were overshadowed by its continued use of cruel punishments such as flogging and beheading," HRW's Sarah Leah Whitson said as the watchdog released its 2016 world report.

"Saudi Arabia should reform its justice system and halt these ghastly punishments."

Last year the kingdom executed 153 people, mostly for drug trafficking or murder, according to an AFP tally.

Amnesty International says the number of executions in Saudi Arabia in 2015 was the highest for two decades.

The kingdom practises a strict Islamic legal code under which murder, drug trafficking, armed robbery, rape and apostasy are all punishable by death.