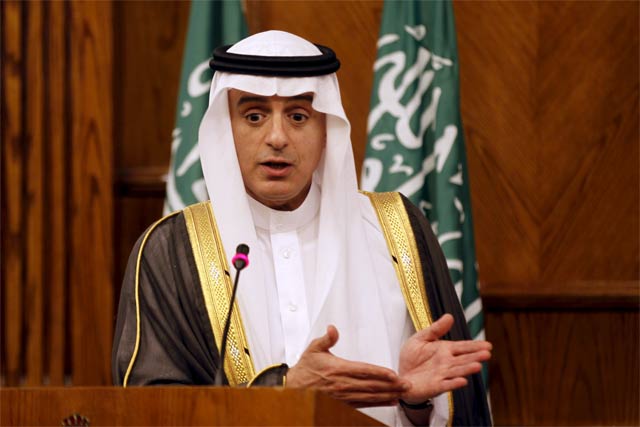 ---
Saudi Foreign Affairs Minister denied on Monday the existence of any Pakistani mediation between the Kingdom and Iran amid ongoing tensions, Bahrain News Agency reported.

"Some countries had offered to mediate and communicate ideas between Riyadh and Tehran, but there will be no mediation unless Iran responds positively," Adel al Jubeir said while addressing the media on the sidelines of the first ministerial session of Gulf Cooperation Council (GCC)-India Cooperation Forum.

PM Nawaz, army chief head to Saudi, Iran to mend rift

"There won't be any mediation because, for 35 years, Iran has adopted a hostile approach toward Arab countries by meddling in their internal affairs, sowing sectarian strife and backing terrorism as confirmed by numerous strong evidences," the minister added.

The United Nations along with several other countries has listed Iran among the terrorism-supportive countries, Al Jubeir informed the media.

"There are governmental agencies in Iran listed as terrorist organisations. There are also officials in Iran's security agencies wanted for their involvement in terrorism. Iran should change its policy and method of dealing with its neighbours on the principle of good neighbourliness and refrain from interference in the internal affairs of other countries so that the path will be open to building better relations with its neighbours," he explained.

Pakistan to name focal person for resolving Saudi-Iran conflict

"The message is clear – Iran has to change its policies and have a better relationship with its neighbouring countries," he reiterated.

Last week, Prime Minister Nawaz Sharif said he considered ending the conflict between Saudi Arabia and Iran a sacred mission. "Pakistan will appoint a focal person for the resolution of the issue and will ask the two countries also designate focal persons [to resolve the issue]," he said while talking to media after the meeting with Iranian President Hassan Rowhani.

PM Nawaz said Riyadh and Tehran were cognizant of the threat of terrorism and extremism, adding the Muslim world needed to bring unity in their ranks.

Pakistan urges Riyadh, Tehran to re-engage

Al Jubeir further commented on the historic ties between Bahrain and Saudi Arabia, stating that the ties will continue to grow, Bahrain News Agency reported. Referring to the United States' stance on Operation Decisive Storm, al-Jubeir said, "Washington has undertaken a supportive role and continues to support the efforts of the Saudi-led Arab coalition in defending legitimacy in Yemen."

This report originally appeared on Bahrain News Agency.
COMMENTS (18)
Comments are moderated and generally will be posted if they are on-topic and not abusive.
For more information, please see our Comments FAQ