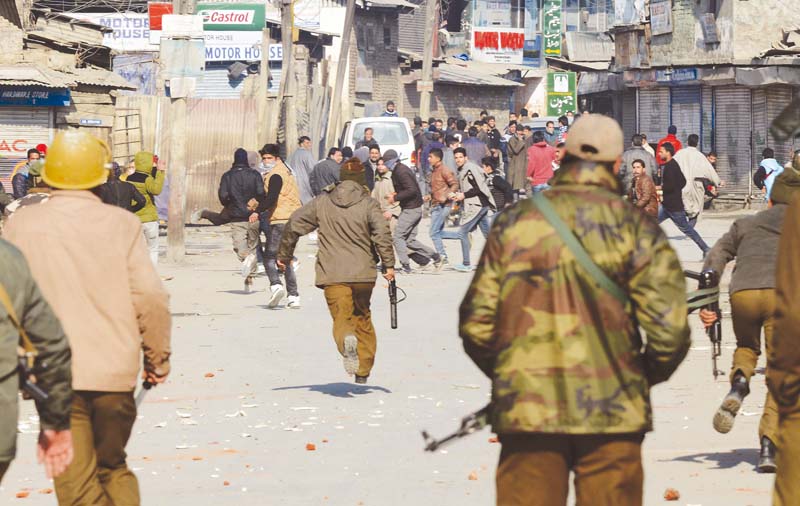 ---
SRINAGAR: A civilian protester and a suspected militant were killed in clashes with government forces on Wednesday in disputed Indian-occupied Kashmir, police said.

After receiving a tip-off about suspected rebels in Naina, some 35 kilometres (22 miles) south of the main city of Srinagar, soldiers cordoned off the village Tuesday night, triggering a gun battle.

Soldier, four suspected rebels killed in Indian-held Kashmir

"One militant was killed during the overnight encounter," Nitish Kumar, deputy inspector general of police, told AFP.

Hundreds of villagers angry at the killing of the suspects threw rocks at police who fired back using tear gas and bullets, killing one protester and injuring two others, Kumar said.

The protesters, chanting "We want freedom" and "Go India, go back" also torched an armoured police vehicle that was sent to help soldiers withdraw from the area after the gun battle ended.

Kashmir has been divided between South Asian rivals India and Pakistan since the end of British colonial rule in 1947.

Indian-held Kashmir on high alert for Modi's visit

Several groups have for decades fought Indian forces deployed in the restive Himalayan region, either for outright independence or a merger of the Indian-held territory with Pakistan.

The fighting has left tens of thousands dead, mostly civilians. Armed violence in the region has sharply declined during the last decade, but encounters between rebels and government forces occur frequently.