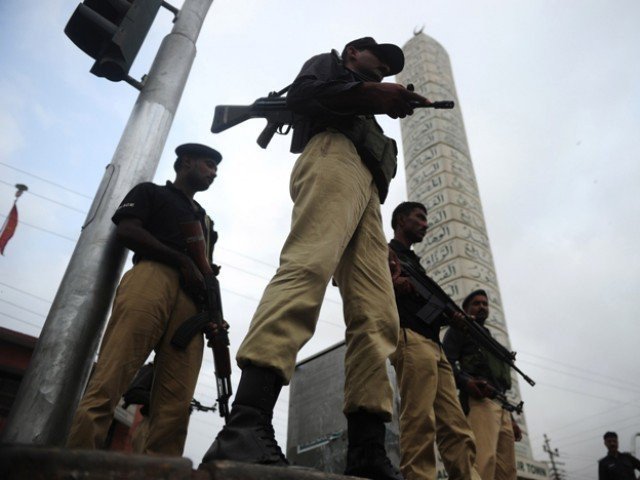 ---
KARACHI:



Another young man, 21-year-old Shaheryar Ahmed, was shot dead at 1am on Monday allegedly by Gizri police who mistook him for a criminal.




This was the second such encounter by Gizri police, who had shot dead Zakariya Muhammad Janjua on January 1 insisting he was a mugger but his family claimed he was innocent. Ahmed and his friends were on motorcycles going home to Landhi after spending the day at Sea View. He was riding his own motorcycle, while his four friends were riding the remaining three. "We were behind him so we managed to stop our motorcycles when the two policemen signaled us to stop but Ahmed could not stop on time as he was speeding," said Tahir, Ahmed's friend. "The police shot at him when he was turning his motorcycle to move towards the police," he told The Express Tribune. "When he fell down on the road, the policemen asked us to take him to the hospital, saying that he was injured from his fall."

The boys rushed him to Jinnah Postgraduate Medical Centre (JPMC) where he succumbed to his injuries during treatment at around 9am. His friends had no idea that he had sustained a bullet wound. "We thought that he was injured from falling on the road, as the police told us but, after the CT scan, the doctors told us that he had a bullet in his brain," explained Tahir. His medical report suggests that the bullet hit him from some distance, around 10 metres away. "We have recovered a bullet from his brain, which caused his death," explained JPMC's senior medico-legal Dr Sheraz Ali.

Police brutality?: Gizri SHO issued notice in 'encounter' case

The body was later handed over to the family for burial. Ahmed had four brothers and two sisters and worked with his elder brother at his workshop. The family staged a protest against the incident and demanded justice. "The police called us and offered to negotiate and tried to stop us from initiating an inquiry and involving the media," said Ahmed's frustrated elder brother Izhar. "We will not negotiate. We want justice and we will use the media to get justice."

Policemen arrested

The police authorities have, however, detained the two cops — Mudassir and Hamza of the Gizri police station - at the same police station where they were posted. "It is very clear that the police were wrong in this case," explained South DIG Dr Jameel Ahmed to The Express Tribune. "They told us that they fired in the air but I do not think that is the truth. However, their intention may not have been to kill the boy."

DIG Ahmed said that he immediately asked the police officials to register a case and took the duo into custody. The officer said that initially the police registered a case against the cops for attempted murder but a murder case will be registered against the cops if they are found guilty.

'Fake' encounter: Inquiry report corroborates police claim

Mudassir and Hamza have been locked up but there are contradictions in their statements. "It was not meant to hit him. Firing in the air was meant to stop him but we still have no idea how the bullet hit him," claimed Mudassir. But Hamza said that they opened fire at him, believing he was a criminal. "We thought that he might open fire at us and before he shot us we opened fire at him but our judgment was wrong. Despite all of this, our aim was not to kill him," explained Hamza.

Encounters have become a routine matter in Karachi. Last year alone, the police killed more than 750 suspects during various encounters. This was the second such incident to have occurred, as earlier on the night of January 1, the Gizri police have been accused of killing of student Zakariya Janjua in an allegedly fake shootout. Last year, four policemen were arrested after they shot and killed two young boys returning from Sea View.

Published in The Express Tribune, January 19th, 2016.