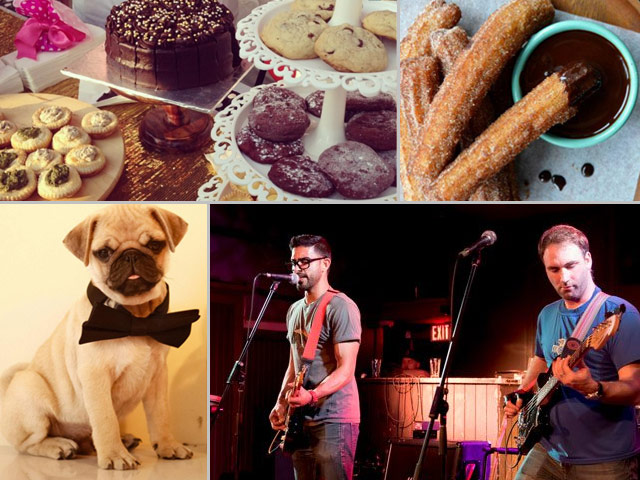 ---
Karachi is one of the most happening cities in Pakistan; we have events taking place every day, and let's be honest, it's hard to keep track of every possible event. Right?

So, here's the low-down of some major events happening in Karachi in the last 10 days of January that you wouldn't want to miss:

1) Karachi Eat 2016 - January 22 - 24:

For the love of food, of course! Who can resist the mouth-watering strawberry Nutella samosas, or sweet potato fries or just the amazing 92 stalls of pure, blissful food?

Karachi Eat is happening at Frere Hall and will span over three days, starting Friday from 4pm to 11pm, while Saturday and Sunday will see an early opening from 12pm to 11pm (we suggest you skip meals at home and enjoy them at the festival, there will be no end to the variety available). However, you will need a ticket to enter the premises, which you can buy at the entrance. It'll cost you Rs250.

Karachi Eat 2015: Bringing foodie nirvana to the city

Foodies, it's going to be one hell of a challenge, 92 stalls in three days -- not to mention elbowing your way through all of Karachi. All we can say is grab your spoons, get set, GO!

2) Pug Specialty Championship Show Karachi - January 24:

For the dog lovers out there, Karachi is hosting Pug Specialty Championship on Sunday, January 24. Well, it's specifically for pugs, but come on, they're adorable. Who wouldn't want to see the little cuties strutting for the audience?

If you want to register your pug for the show, you're in luck since today is the last day! Just go to Dr Isma or Dr Pirzada's Clinic or pet stores Pet Pal or Royal Pin, fill out the registration form and submit an entry fee of Rs1,000.

And for people who just want to go enjoy the show, the visitor pass is for Rs100. It will take place at the KCP Ground near Bilawal House at 10am.

3) H.O.P.E.S. Health Expo 2016 - January 24:

For the health freak in you who wants to have some fun and gain further insight into your physical and mental self, H.O.P.E.S. Health Expo is the place to be.

Formerly a carnival known as the H.O.P.E.S. Mela, this time around the Help Of Patients in Exigency by Students (H.O.P.E.S.) team decided to go bigger, setting up the the first ever health expo to be arranged by an NGO in Pakistan. It's being held at Karachi Expo Centre on Sunday January 24th, 10am to 10 pm.

Lok Mela 2015: Festival showcases dying crafts from all over country

You can participate in numerous health screenings, skin treatments and healthy food demonstrations, workouts like yoga, interactive exhibits, games, as well as attend seminars on important health related topics.

Bonus: There's going to be plenty of healthy food and entry is free. You'll only be required to buy passes for the play and seminars.

4) Poetry Slam - Karachi - January 29:

Do you have a knack for writing? Yes? We've got an event for you! Poetry Slam invites people of all age groups to come together under one roof to share their talent and win!

Although their Facebook page says registrations are closed, they will be opening again soon. It'll cost you Rs300.

The event is being held at Gloria Jeans Coffee in Sindhi Muslim on Friday, January 29 from 3pm to 6pm.

5) Harappan Connections Exhibition January 14th-24th:

If you're a history buff, you might want to go check out the Harappan exhibition at Gandhara Art Space.

This exhibition of ancient artifacts, contemporary potteries and interpretive artworks is part of the Lahore Museum's permanent collection of the Indus Vallery Civilisation objects which are currently being exhibited at Gandhara Art Space, Karachi. The exhibition opened on January 14 and will continue till the 24th of this month. Timings are from 5pm to 8pm.

Mausiki the band set to perform in Karachi

6) Cranked Up! Karachi - January 30:

In the mood for some rock n' roll? You can't miss this performance. Canada-based band Mausiki is all set to perform in Karachi on January 30.

The band will be performing some of Mausiki's tunes with a local line up consisting of Umair Dar of band The D/A Method, Daniel Panjwaney of //orangenoise and Zain Jaffer, as well as the city's indie-folk rockers Sikandar ka Mandar.

That's not all, there will be live graffiti by Neil Uchong and some high caliber guest musicians who will also be performing at the event.

It will be held at Karachi Arts Council. Head on over to Chop Chop Wok to buy the tickets -- they're only for Rs500.